This post may contain affiliate links. Read my disclosure policy here.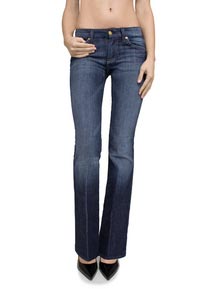 What if we could simply click our way to the perfect pair of jeans?

That thought enticed me. Finding the perfect pair of jeans is not easy. As a busy mom, not only do I not have time to go from store to store searching for a pair that fits, but it sure would be fun to be able to check out all of the hot designer jeans I read about it the magazines. (I am lucky if I get five minutes to myself in Old Navy, let alone go on a designer shopping spree.)

But at www.truejeans.com, the jeans – and the jean fitting experts – come to us! We simply enter our measurements, and the computer lines up all the best jeans for us. True Jeans carries all the hottest denim designers and each pair is listed with a rating for how well they will fit us. All we have to do is pick. This is scientific shopping ladies!

And one of you is going to have a fabulous Christmas treat! We are giving away a $200.00 gift certificate to spend at True Jeans. Yes – this is a jeans shopping spree. The winner can indulge in the most fabulous pair(s) of jeans she wants!

If that shopping spree sounds just about perfect to you, why not put it down on your Christmas wish list? True Jeans has gift cards available, so a hint to your hubby might be all you need to get you clicking your way into some fabulous jeans! And True Jeans is offering our readers a 10% discount code good through till December 31, (the code is 5minmom) to sweeten up your Christmas shopping.
True Jeans also has a lifestyle blog, called True Life, "for men and women who want to learn about and discuss how fit, fashion, and designer jeans can fit into their True Life."
If you want to win this $200.00 gift certificate to True Jeans, you just need to:
Publish a post on your own blog linking back to this giveaway post and also linking to True Jeans.
Leave a comment on this post.
If you don't have a blog, we understand you can't link back, but then please spread the word amongst your friends.
This contest is open to both US and Canadian shipping addresses!
We'll announce the winner on the evening of Wednesday, December 19th. Please remember to check back then to see if you won and check your email (including your junk mail folder).