This post may contain affiliate links. Read my disclosure policy here.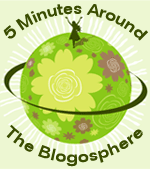 Welcome to our weekly roundup here at "5 Minutes Around the Blogosphere".
As you know, you can come back all week and add a post or giveaway to our Mister Linky. Be sure to check back often, as new links will be added daily. You don't want to miss out on something fun.
ANNOUNCEMENTS
This Sunday is National Grandparent's Day and today's NanaHood article is a reminder to reach out and a hug a grandparent!

Grab a Grandma and Give Her A Hug – Teresa Bell Kindred

In 1978 President Jimmy Carter declared the first Sunday after Labor Day National Grandparent's Day. In 1978 I was in my early 20's. I probably didn't even notice his declaration, but I always loved and respected my grandparents.

When I was young I thought everyone grew up with a mom and a dad in the house and loving grandparents right down the road. Then I went away to college and quickly learned that wasn't the case.

One of the goals of NanaHood is to connect the generations. It really does take a village to raise a child and parents need all the help and support they can get. Another goal is to remind grandparents (and moms and dads) of the positive difference a supportive grandparent can make in the life of a child. In my case it was my maternal grandmother who taught me so many life lessons with her kindness, gentle spirit and patience.

If you are lucky enough to still have your grandparents (near or far) go visit them if you can. If not, call them this Sunday or send a card. I know they will appreciate it!

Help a Nana celebrate NanaHood. It really is grand to be a grandparent!

September 20-26 is national Cupcakes for a Cause Week, a national fundraiser for CancerCare for Kids, which is a national non-profit organization that offers free counseling and support to people dealing with cancer themselves or with someone close to them.

e-Cupcakes are a great way to help children and families affected by cancer. Anyone can visit http://www.cupcakesforacause.org/ecupcake/ to decorate and send free, zero-calorie, virtual e-Cupcakes, with special messages to their friends and family. It's super interactive; you can select your favorite flavors, colors and even draw your own designs or wording on it! Give it a try!

Presenting sponsor, göt2b, will donate $1 to CancerCare for Kids for each e-Cupcake sent in September, up to $10,000.

SWEEPSTAKES & GIVEAWAYS
In celebration of the upcoming release of GET HIM TO THE GREEK on Blu-ray and DVD and to kick off the 80th Anniversary of the legendary Greek Theatre, Universal Home Entertainment has launched the GET HIM TO THE GREEK GETAWAY SWEEPSTAKES.

Enter for a chance to win a free trip for two, including airfare and ground transportation to Los Angeles to see Interpol at the renowned Greek Theatre (complete with access to the VIP Redwood Deck) and enjoy a two-night stay at the swanky Standard Hotel in downtown LA, both of which were featured in the hilarious hit film. To complete your LA getaway, the grand prize winner will also receive two complimentary guest tickets to the popular late night talk show, "Lopez Tonight" starring George Lopez.

Visit http://www.gethimtothegreek.com/sweeps to get the details and enter today.

BC is looking for extraordinary families across America to send on an incredible VIP family vacation for 5 days and 4 nights to the Walt Disney World Resort in Florida. This contest is running until Monday, September 13th and it's really quick and easy to enter. Families can visit www.NoOrdinaryContest.com to submit a short video telling ABC what makes their family extraordinary. Extraordinary doesn't have to mean you are smartest kid in your class or the fastest player on your team. We are looking for your everyday family: A single mother raising her two kids alone, two parents working full time and still finding time to coach their son or daughters Little League, a family who volunteers in their community.

The winning family will be featured on ABC on October 5th!
BLOG GIVEAWAYS

For Everyone
Just For Kids and Babies
Would you like to share a fun giveaway or a worth our while post? Please add it to the Linky below. You can come here any time this week to add in your link. Don't miss out on the fun. Be sure to visit throughout the week as the linky grows, and more sites are added.
Powered by Linky Tools
Click here to enter your link and view the entire list of entered links…
If you would like to have a post on your blog featured in 5 Minutes Around The Blogosphere, please send us an email with the actual link to your post at features5minutesformom at gmail dot com and we'll see if it can be arranged.