This post may contain affiliate links. Read my disclosure policy here.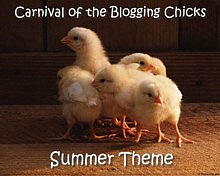 Just two weeks ago I watched the news about heat waves strangling cites across the globe, while I looked out the window at a cloudy, rainy day, wondering when summer would reappear. Our city seemed to be stuck in a cold, jeans-wearing spring, while everyone else ran through sprinklers and sat in the sun.
Yes – I actually felt a little envious!
But how quickly everything can change. Now I sit here, sweltering in a heat wave, my tank top rolled up with a fan blowing directly on me. (In this city our heat waves are short and most homes do not have air conditioning.)
It is not as much fun as it looked. I am hot. Very hot.
How is it that when we are freezing cold, bundling our kids up with layer upon layer of clothing, summer looks so perfect. But then once it hits with blistering cruelty, snow boots and mittens never looked so good.
I guess it is just another case of the grass is always greener. We humans will always envy for things we don't have and then long for something else when we do get it.