This post may contain affiliate links. Read my disclosure policy here.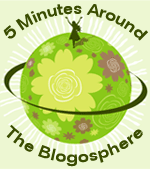 CONTESTS & GIVEAWAYS
Stop by An Island Life for a chance to win a pink animal bag from Boon Inc. or a $59 gift certificate for a beautiful piece of personalized jewelry from Julian & Co.
Mamanista has 12 Days of Giveaways for babies, toddlers, and parents this Holiday Season. These fabulous gifts include some safe and fun toys, exciting books and CDs, hip baby and toddler clothes and accessories, and more! We ask that entrants share the 12 Days of Giveaways with some friends and then enter each giveaway that interests them.
Mark your calenders. Charmies is having a daily giveaway beginning December 1st until the end of the month. To enter, just fill out the entry blank on the day(s) of the prize you'd like to win. Stop by and check out all the great prizes they have to offer!
The Crunchy Domestic Goddess is giving away a MiYim organic cotton elephant teether rattle and a Keptin Jr. organic cotton cuddle pants doll from Hazelnut Kids. Deadline to enter is December 12th.
The Well-Read Child will be reviewing the book When I Was Young in the Mountains by Cynthia Rylant from November 17th – 21st. In honor of this, she will be giving away a paperback copy to two lucky winners. All she asks in return is for you to post a comment regarding the book during the review week. Deadline to enter is November 30th.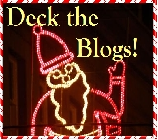 The first annual Deck the Blogs Contest is currently going on at the Contest Hotel. Decorate your blog and enter it for some really beautiful jewelry! Or if you're html challenged (like me) you can enter the Christmas photo category. Deadline is December 10th.
You can win a really cute t-shirt from The Laughs Will Go On and LTDChix. Just stop by the giveaway post before November 26th and leave a comment. You can earn an extra entry but just mentioning this giveaway on your blog. This would make a great Christmas gift!
Mark your calendars! Charmies and some other really great stores are sponsoring a daily Christmas giveaway beginning December 1st and going on until the 25th. To enter, just fill out the entry form for each day that you'd like to participate. Winners will be announced on the following day. Good luck!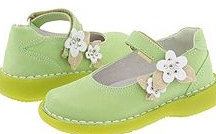 Announcing the TeenyManolo Sweepstakes, an international contest for Amazon Gift Certificates, two for $50US and one grand prize of $150US to three lucky readers. The contest begins on November 23 and ends at 12AM Pacific Time on December 7, 2007. Enter today!
Don't forget about Mommy Bracelet's 12 Days of Christmas Giveaway!
COMMUNITY AWARENESS
If you're looking for a way to give back this holiday season, check out Charity Checks. Charity Checks' "giving certificates" allow consumers to shop from home, save on taxes and give a present that's redeemable as a donation to any of 800,000 IRS-qualified charities across the country.

Launched in 2006, The HERO Youth Ambassador Program was developed to provide comprehensive school-based support to orphans and vulnerable children living in HIV/AIDS-affected African communities. This past summer, twenty-four teens from across the U.S.A. were selected to become Youth Ambassadors and traveled to Namibia and South Africa to work on Protecting Futures, a program by Tampax and Always to improve school facilities and educational programs as well as providing resources to help girls in Southern Africa maintain school attendance during menstruation. For more information on the program, you can visit http://www.protectingfutures.com/
GREAT DEALS
Lancome is offering a 20% discount on all online orders with free shipping! Hurry, it ends tomorrow!
How would you like your child to receive a personalized letter from Santa for free? Identity Direct offers a free download, however, for a small fee your child can write a letter and get a mailed response complete with a postage stamp from the North Pole. Check it out!
Love Arby's? Here are some coupons you can print and use at your next visit.
Disney is offering a free download on two of their computer games (value $25 each). All you need is the code (GP Storybook) and you're all set! Have fun!
With the holidays already here, I'm sure you're taking tons of pictures of the family. Well, Hoorray. com is offering everyone 50 free prints from their site. At Hoorray you can easily import your photos with one click and
create unique and personal gifts and keepsakes. Cool!
If you would like to have a post on your blog featured in 5 Minutes Around The Blogosphere, please send us an email at features5minutesformom at gmail dot com and we'll see if it can be arranged.
Kailani can be found at An Island Life and An Island Review.