This post may contain affiliate links. Read my disclosure policy here.
The day didn't look promising. Jackson, who was home from school because of a bad cold, was cranky and tired and finding comfort from a video game.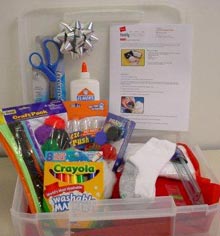 But then the doorbell rang. Jackson dropped his game and ran to the door to find a huge box – it was a Holiday Craft Kit from Hanes complete with everything we needed to make a festive t-shirt, travel pillow and digital pouch, plus a ton of extra craft supplies. And it all came in a great plastic storage kit tied up in a red bow. I couldn't believe the timing – what a way to turn this day around!
We immediately dug into the supplies and Jackson decided to paint a moose on a t-shirt and make two sock puppets. We got down to work and even baby Olivia joined in the fun.
Of course at the end of his painting session, Jackson had to have a bit of extra fun and added a hand print to his chest and ran around battling invisible enemies. (You gotta love the imagination of a five year old boy!)
We had a blast with our Hanes Craft Kit – and of course we are sending some crafting fun out to you too!
Hanes is giving two of you a ready-made family-night-in-a-basket Holiday Craft Kit, just like the one Jackson received, that you can use to have some family fun and even perhaps make some holiday gifts for family or friends.
And – Hanes isn't stopping there – they are also giving three more of you $50 gift cards good for use at Hanes.com to purchase whatever you want – even items to make some crafts too!
(Just to clarify… these special craft kits are not for sale… they are exclusive to this giveaway. But you can go to Hanes.com and purchase the individual crafts that come in the kit.)
If you want to be one of the winners, leave a comment here. For detailed instructions, see the Christmas Giveaway 2007 post (including the code to put our Christmas Giveaway button on your site.)
But here is the quick run through:
Leave a comment on this post to be entered.
Either post a link to this contest OR post a button linking to our Christmas Giveaway post. (If you post the button and link to the Christmas Giveaway, you are qualified to enter in all the upcoming Christmas Giveaway contests. And we have many more contests to come!) Non-bloggers are welcome too – we understand you can't link – but feel free to pass the word on to your friends.
(This giveaway is open to US shipping addresses only.)