This post may contain affiliate links. Read my disclosure policy here.
My five year old Julia does NOT like boys!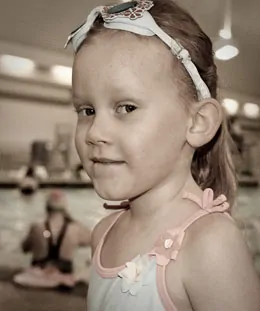 A few months ago at a birthday party, she refused to sit next to another little guest because he was a BOY. She also insisted that absolutely NO boys come to her fifth birthday party and was rather unimpressed that her boy cousins slipped by the restriction.
But lately she's become slightly more tolerant and politely played with a boy in her swimming class.
Today after the final lesson of the two week daily swim class, to everyone's — especially Julia's — surprise, the little boy went up to Julia and leaned in to give her a kiss goodbye.
Julia jumped back with shock and shot him a dirty look.
No first kiss for this 5 year old!