This post may contain affiliate links. Read my disclosure policy here.
With rain soaking the playgrounds and daylight gone by five in the afternoon, winter can mean a whole lot of indoor play time. And kids cooped inside can sometimes mean too much TV and too many video games.
As parents, sometimes it feels like a constant battle to keep our children away from the television.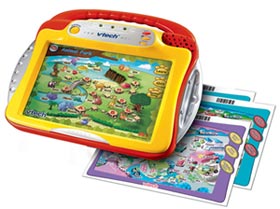 Well, Vtech is on your side.
Vtech has created a PC Learning System that's so cool, your kids will turn off the TV themselves.
The Vtech Whiz Kid PC Learning System is an interactive learning board that has kids improving their reading, writing, language, math and logic skills all while they play.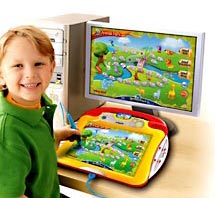 The Whiz Kid is all about growth. While your child learns and grows, the system expands with additional activities and games. The Whiz Kid PC Learning System comes with over 120 different activities and games on 40 learning pages. And there are additional Whizware Curriculum titles each with over 120 different activities and games.
Connect the system to the computer and those games become even more interactive. And your kids can even easily login to the secure Whiz Kid World website to access additional content.
We're giving away one Vtech Whiz Kid PC Learning System along with your choice of an additional Whizware Curriculum title. So click over to their site and decide which title your kids will enjoy the most and then leave your comment here.
For detailed instructions, see the Christmas Giveaway 2007 post (including the code to put our Christmas Giveaway button on your site.)
But here is the quick run through:
Leave a comment on this post to be entered.
Either post a link to this contest OR post a button linking to our Christmas Giveaway post. (If you post the button and link to the Christmas Giveaway, you are qualified to enter in all the upcoming Christmas Giveaway contests. And we have many more contests to come!) Non-bloggers are welcome too – we understand you can't link – but feel free to pass the word on to your friends.
(This giveaway is open to US shipping addresses only.)