This post may contain affiliate links. Read my disclosure policy here.
Shauna from Shaunarumbling is our most recent addition to the writing team here at "5 Minutes for Mom". Shauna will be interviewing bloggers and helping us bring you the best of blogging.

Shauna is a homeschooling Mom of two girls, a stepmom of one boy, and a freelance editor and writer. She was previously a staff editor for a publishing company and has an educational background in education and journalism. She loves reading, learning, and writing. Her primary blog is Shaunarumbling, where she discusses faith, family, books, and other topics. The Family Quilt highlights service ministries and organizations that provide opportunities for families to participate in community service projects together. At Treasure Seekers, Shauna talks about learning and education and seeks to encourage and empower parents to teach their children and be actively involved in their education, whether they're homeschooled or public- or private-schooled.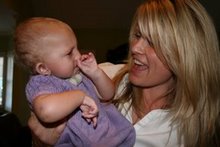 Gwen and Matt Sirmans' daughter, Ivey, was born with a very rare condition, Chromosome 21q Partial Deletion Syndrome, as well as anophthalmia, microcephaly, and a cleft palate and lip.
Even her medical specialists have had no experience with her particular diagnosis before, so Ivey was as much a surprise to her doctors as she was to her family. Ivey has continued to surprise people in the year and a half since her birth!
Families all over the world delight in the milestones in their children's lives, like rolling over, giving good-night kisses, and birthdays. Ivey's parents and her big brothers, Knox and Walker, have even more milestones to celebrate as she grows; she recently received a new set of prosthetic green eyes, the same color as her Mom's! There have been hospital stays, surgeries, and hurtful reactions from other people. But through all the uncertainty and pain, Gwen recognizes how blessed her family is and has many reasons to be thankful.
At Ivey Elizabeth, Gwen honestly and beautifully records the miracle that Ivey is, in words and in many photos and videos. As she shares Ivey's story, she shares her own faith and courage as well as her love for her children.
It was my pleasure to interview Gwen about Ivey, her family, and their "new normal," and I was so blessed by her thoughtful answers:
Were you able to learn about your daughter's medical needs and prepare for them, or have you mostly learned from the on-the-job training you've received while taking care of her?
My motto for our on-the-job training is quite simple: "GOD DOESN'T CALL THE QUALIFIED. HE QUALIFIES THE CALLED."
If God had intended for the most qualified woman to be Ivey's mom, he definitely would not have chosen me. Someone with a medical degree — a very special medical degree — would have been more fitting. Luckily, I was his first pick to be Ivey's mom, and every day I am given the tools and knowledge to love and care for Ivey.
Your blog tells the story of Ivey's life and your family's "new normal." What are the biggest changes you have had to make since Ivey's birth?
In the beginning of Ivey's medical mayhem, I kept finding myself wanting and waiting for her life to be my definition of normal. It finally hit me, this is her normal. It is our new normal! Since then we have been a steam engine moving forward.
As for changes, there is not an area of our life that has not changed since Ivey's birth. But isn't that true for any family structure with a new baby/sibling entering into the family? Nevertheless, there are a few areas that have had more drastic changes. My husband and I have adapted to a home health nurse in our home during the night hours. To our sons Ivey's nurses are part of our family. Our nurses are a Godsend, but it did take time to adjust to someone being in our home during what would normally be private time.
Personally, my biggest change has come twofold. Running errands or just the occasional impromptu trip to Barnes and Noble now requires planning. My own personal time is no longer my own. It makes me laugh at myself to think that even my spontaneity is scheduled.
How have you adapted your lifestyle to give Ivey the attention she needs and manage your other responsibilities as a wife and mother?
I would love to give out my secret recipe on time management, but I do not have one. It is all about routine and scheduling. Overall, I have gradually made adjustments to accommodate my responsibilities. Some days I give a little more here, take a little less there. I work-in variations to our routine, but never stray too far from it.
Where do you draw your strength from, especially during the scary moments involving trips to the ER and all the unknowns associated with this condition?
You cannot imagine how many times I have questioned my weaknesses and wondered why I am not a stronger person. Often I have felt like David taking on Goliath; it is overwhelming that someone so small can have so many infinite possibilities and unknowns. So, I am not so sure that I am strong.
I do believe that my husband is our families' foundation, my rock. I believe that my family (especially my parents) provide scaffolding. I am humbled every day at the strength and stamina of my amazing friends. Where family involuntarily finds their place in our occasional chaos, my friends choose to bear the rough seas with me. They never leave my side. Ivey's Godmothers also play a pivotal role in Ivey's life. There are times that I have to step away and breathe, and I know that these precious women will always be there for her and love her like their own.
But without a doubt, God above has walked through each day with me, carrying me at times.
Are you able to get support from others with children with similar conditions?
Yes and no. Ivey's diagnosed genetic syndrome is extremely rare -– it is just Chromosome 21q Partial Deletion Syndrome. However, I have had minimal contact with a family in South America whose son also has a similar deletion. Other than that, Ivey's specialists have never encountered this genetic abnormality. Ivey is their lone reed.
I have had success finding support systems for individual symptoms of Ivey's diagnosis. For example, Ivey was born with a very rare eye condition known as anophthalmia; when translated it means Ivey was born without her eyes. By searching the internet I came across a message board for parents whose children were born with anophthalmia. From there nine moms, me included, branched out and established a website called Microphthalmia Anophthalmia Parent Support (MAPS). The members of MAPS not only provide support for each other, but together we get strength and share experiences with one another to help our children succeed.
What do you wish that others knew about having a child with a genetic condition?
Our children's special needs should not dominate our lives. Where Ivey is a large portion of my life, she is not my only life. I have to make an effort every day to still be me. It is so easy to fall into a trap and allow Ivey's medical situation to dictate my life. It has taken time and this was not an instant concept, but I have ACCEPTED that my life has changed. Acceptance allows me to find the joys in our new normal.
I believe our children's differences are to be commended. I am very proud of Ivey. In the beginning, I worried about our friends' reactions. Even more, I was afraid of public opinion and her acceptance into society. I often wish that I could run errands with Ivey without someone staring or asking questions. I wish the day could be "normal." However, that would be life in an ideal world. I do not let the stares stop us. We GO. I encourage questions and open dialogue about Ivey's condition so that people will include her. Because I am so open, my friends and their children see Ivey as another one of the kids, not the child with issues. The key to Ivey's acceptance lies in my perception and reaction to her condition.
Most importantly, Ivey is the only one who determines her limits and potentials. I am not about to be the one to tell her she cannot do something just because a doctor or piece of paper suggests that she will not be able to. I maintain a very realistic frame-of-mind; there is no fantasy land here. I am her advocate. I praise her, surround her with positive people who love her, limit her time with people who have the "poor baby" disease, and I love her for just being Ivey. I give her wings and she soars.
Would you share a favorite memory or moment that highlights what a special blessing that Ivey is to your family?
After Ivey was born she spent her first month in the NICU. Our middle son was too young to visit, but our oldest (who was three at the time) finally got to see his long-awaited sister. My husband and I explained that Ivey would have several tubes connected to her. We had also told him that Ivey had a cleft lip, and we tried our best to explain her appearance and that she would look like she was sleeping even though she might be awake. We were mindlessly worried about how Ivey's medical condition would affect our sons. That's two foolish adults for you.
Our son sat down and asked to hold Ivey. We laid Ivey in his lap and held our breath waiting for his response. He looked at her so tenderly, then he looked up and said matter-of-factly, "Mommy, Ivey needs another hole in her nose." After I picked my jaw off the ground, I said "Okay, then. We will tell the doctor when she comes back and see what we can do about that." Then in the sweetest three year old voice, he began to sing "You've Got a Friend in Me" from Toy Story.
That's when I knew God gave my sons great big hearts. They do not see Ivey as anything but Ivey. Our sons have taught us how to love without expectation. That day in the hospital my son never saw the tube in Ivey's nose, the IV in her head, a deformed mouth, or a sister without eyes. He saw his sister, nothing less — nothing more.
—
Visit Ivey Elizabeth at http://iveysirmans.blogspot.com