This post may contain affiliate links. Read my disclosure policy here.
Pamela has done it again.
She's organized another fantastic cyber baby shower — this time for Classy Mommy. Some of you may remember the huge bash she orchestrated to celebrate the arrival of Janice's baby Olivia and my baby Sophia.
So this time the party is at Classy Mommy's place.
There are over 60 prizes donated by 45 companies! Click here to see all the prizes available to win.
They have four shower game questions for us… and I have to say I certainly won't be winning any of these.
GAME # 1
If you want your 1st pick of the prizes – let us know in your comment or blog party post how long the labor and delivery of your 1st baby took! The quickest labor and delivery will win!
Classy Mommy's first delivery was 4 hours from the time her water broke until the birth. Well, mine was 4 days from the time my water broke until Julia finally appeared.
Yes, 4 days with my water broken… crazy isn't it? The hospital was too busy to induce me so I spent four days driving back and forth and waiting for hours and hours in the hospital waiting room. On the fourth day I paced the hospital hallways from 11:00 AM until 11:00 PM when I finally was given a room and Oxytocin.
Those induced contractions were no fun and so I sought epidural relief almost immediately. The epidural spared me much of the pain and I (sort of) slept through the night as the Oxytocin did it's work and brought me to full dilation. Then at about 7:00 AM and a few shockingly painful pushes and Julia joined the world.
My second, Sophia, who arrived 4 weeks ago had a very different delivery. Sophia came fast and with an unbelievable amount of pain. My epidural with Sophia didn't have time to work and I thought I would die from the pain. But it was over fast!
Game # 2
If you want the 2nd pick of the prizes – Show us a picture of your Belly Bump –the "Best" Bump will win! You'll be posting this on your blog!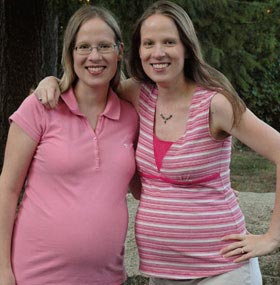 So here we are – 37 weeks pregnant. (Janice is on the right.)
It's funny because when we first posted this picture, we thought my baby was bigger than Janice's. The ultrasounds were reporting that Sophia was going to be significantly bigger than Olivia and we thought I'd deliver before Janice.
But Olivia arrived exactly two weeks before Sophia and they were almost the same size. Olivia was 6 lbs 14 ounces and Sophia weighed 6 lbs 11.5 ounces.
Game # 3
If you want the 3rd pick of the prizes, Submit a photo of your Babies Nursery. The "Best" Nursery Photo will win. You'll be posting this on your blog too!
I unfortunately do not have any photos of our nurseries and Janice is away with our digital camera. (We share a camera.)
The best part about both of our nurseries are the walls. We both have adorable hand painted murals that a friend of ours painted for Jackson and Julia. The only trouble with Janice's nursery is that the mural was done for Jackson and it is of Winnie the Pooh and his friends playing hockey. So it's more of a boy's design than a girl's.
Game #4
If you want the 4th pick of the prizes, The Biggest Baby will win! This can be a comment with stats or a photo on your blog along with Stats.
Again we're not breaking any records over here. Janice's boy Jackson was 7 lbs 11 ounces (I think) and my girl Julia was 6 lbs 8 ounces. And as I already mentioned Olivia and Sophia were 6 lbs 14 ounces and 6 lbs 11.5 ounces.
But Jackson sure could win an award for being the tallest 5 year old. He was an average size when he left the womb but he started some serious growing as soon as he started to suckle. He's always been off the charts with height and he currently is taller than most 7 year olds.
Now go take a look at all the amazing stuff that Classy Mommy received at her shower and then start dreaming about all those prizes.