This post may contain affiliate links. Read my disclosure policy here.
BlogHer '10 was a Whirlwind… or more like a TORNADO according to our Hotel Room
Janice and I often describe ourselves as tornadoes who leave mess behind everywhere we go.
Well, BlogHer brings out the messiest in us. From the moment we hit our hotel room to the moment we cram the last piece of swag into our over-stuffed bags, we are go-go-going… with no time to pick up after ourselves.
We always have such a blast at BlogHer and again we were on a non-stop video shoot sponsored by Kmart Design.
Our life during a BlogHer conference goes something like this…
Some time between 2 and 5 am we collapse on our beds and then wake in a mad rush to get out the door. We frantically search through our suitcases to find what we needed that very instant and toss everything out of our way. We run in for a wardrobe change and dump the contents of our purses on the floor as we switch to a different handbag. We drop off bags of swag and quickly pull out items like kids on Halloween to see what we've got.
I'm confident that the chaos of our hotel room was miles beyond what any other BlogHer partier generated.
And because we have no shame… we're going to show it to you!
Janice took these photos Saturday night in the wee hours. Yes — we were still up!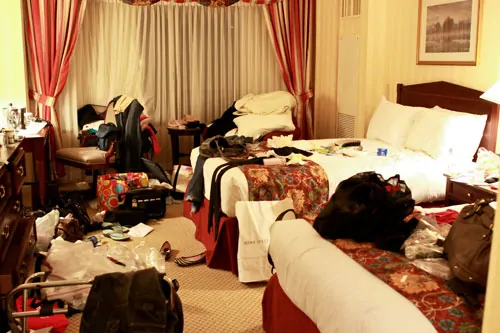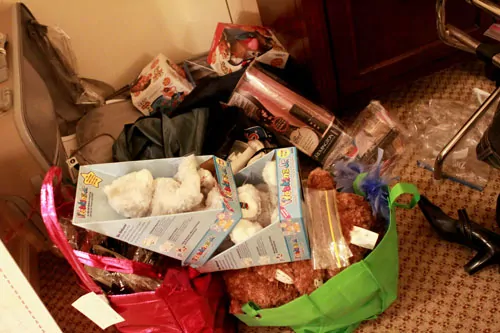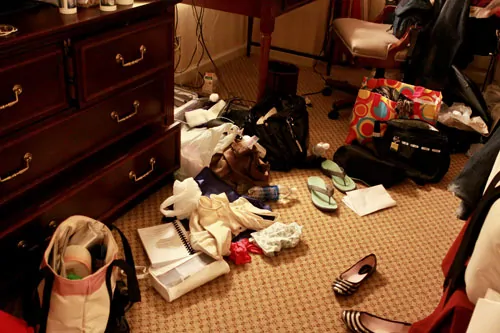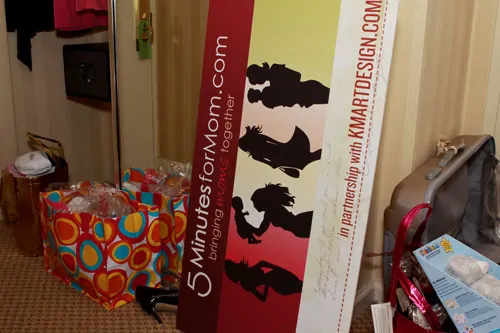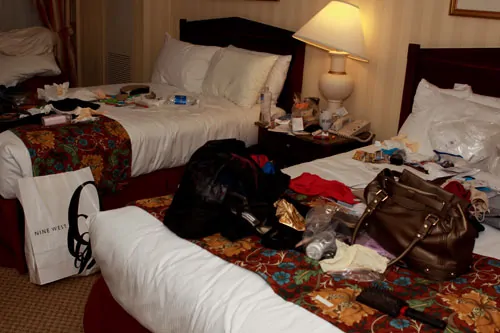 But SOMEHOW it got even messier Sunday morning while we sorted out swag and clothes and tried to see how we could fit everything in our suitcases and carry-on bags.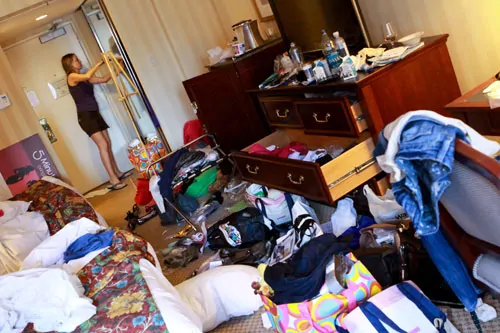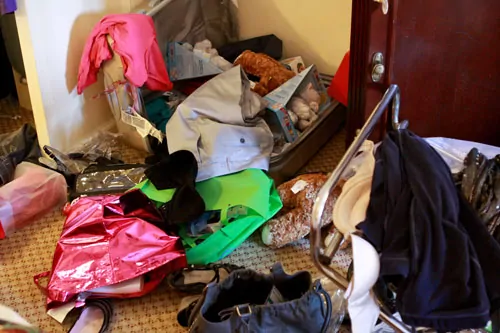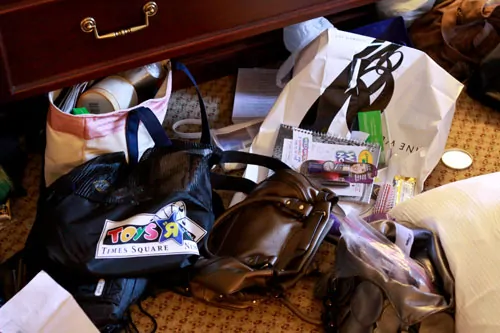 In the end, we gave bags of swag away but still had to get the taxi to stop so we could buy a duffle bag to bring home the swag we decided to keep.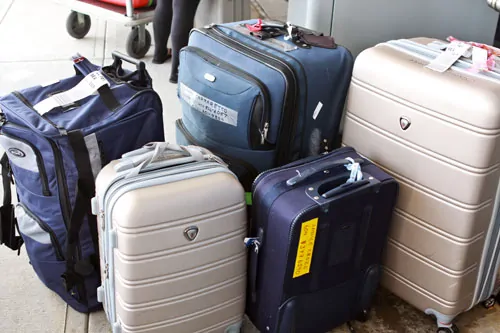 After checking our bags, we were on our way…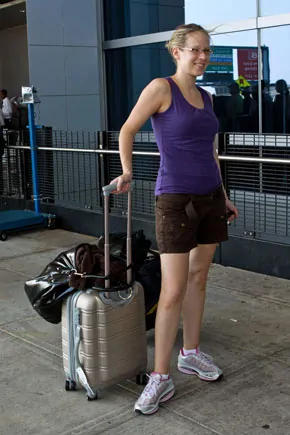 Now… the biggest trouble with that mess is that we had to TACKLE it in a mad rush on Sunday morning (luckily LATE morning as we purposely arranged an afternoon flight.)
Of course the tackle took far longer than we planned and we were an hour past the late check-out time. But we bribed the housekeepers with bagfuls of swag and they let our delayed check out slide.
After a long taxi ride slowed by parade traffic, we made it to the airport and arrived at our gate just in time for the flight. But we apparently didn't need to rush as while boarding, the airline decided the plane was too broken and delayed the flight. The 2 hour delay made us miss our Seattle connection and we spent the night in Seattle. We finally arrived home on Monday afternoon!