This post may contain affiliate links. Read my disclosure policy here.
Olivia (Janice's 5 week old baby) is in love with her MetroWrap™ and if Sophia (my 3 week old baby) knew what she was missing, I think you'd hear some screaming.
Yes, Janice won the fistfight and laid claim to the MetroWrap™ we reviewed this summer. And it is proving to be the lifesaver that we thought it would be.
Olivia loves being snuggled tightly in the soft fabric and sleeping to the sound of her mommy's heartbeat.
Janice keeps raving about how comfortable and easy to use the wrap is and how Olivia instantly relaxes and falls asleep as soon as she's nestled inside. My jealousy peaked and I wrote to our friends at MetroMamma.
They graciously offered to save me from my jealousy and as well sponsor another giveaway to let another lucky "5 Minutes for Mom" reader enjoy one of these comfy, ultra-chic baby carriers for free.
Yes, we're giving away another MetroWrap™ courtesy of MetroMamma™.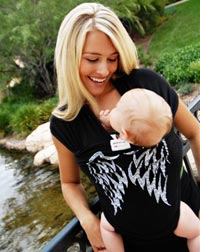 The timing couldn't be better. MetroMamma™ has just created two fabulous new designs. The news is so hot off the press that they haven't even had time to put the new pictures up on their site. You're seeing them first here!
The first new design shown above is "Fleur-de-lis" and the second is "Angel Wings". The winner will have her choice of these two hot new looks.
We love that these elegant baby carriers were created by two moms. Carie McNeil and Leah Mamone worked together to invent a carrier that met all their needs. After using all the different styles of slings and wraps, they decided to create their own unique design and the MetroWrap™ was born.
We think their invention is brilliant and we're convinced you'll love it too.
If you'd like a chance to win yourself a MetroWrap™, simply leave a comment on this post.
We'll draw the random winner on December 1st.(US shipping addresses only.)
The MetroWrap™ baby carrier is the perfect way to bond with your child, enjoy your freedom and look chic while doing it!