This post may contain affiliate links. Read my disclosure policy here.
It was the most anticipated part of the weekend, having the opportunity to sit down with Zac Efron and Charlie Tahan from the new movie, Charlie St. Cloud. Oh and we got to take pictures with them as well. Look who has her arm around Mr. Efron. Yes, that would be ME!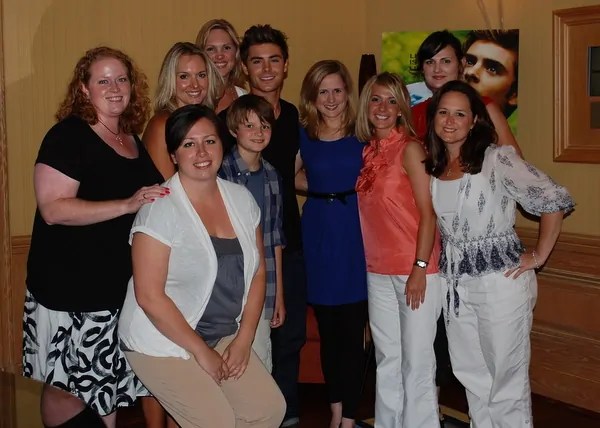 I have to admit, I was nervous. I have this odd nervous habit, where I cough…a lot. As we sat, waiting for Zac and Charlie to join us, I was coughing up a storm. It was a bit embarrassing, actually. I even let the other ladies know that I wasn't sick, just nervous. As soon as Zac and Charlie entered the room, however, my nerves were calmed.
The next 20 minutes were so much fun. We had plenty of questions to ask Zac and Charlie and they kept us quite entertained with their answers. There was a lot of laughter. It was a blast.
As moms, we were touched by the brotherly relationship that Zac and Charlie portray in the film. We found out that they spent a lot of time hanging out off set. Of course they had already spent quite a bit of time together practicing their pitches and learning how to sail, but the boys also attended hockey games and movies together.
The chemistry between the two actors is fantastic on and off screen. During the interview, they acted just like brothers. They teased each other a bit, but also praised each other. Zac even made it a point to allow Charlie some time in the spotlight, directing some of the questions toward him. It was awesome to watch them interact together.
Here are a few of my favorite questions and answers from our Mommy Blogger Roundtable Interview with Zac Efron and Charlie Tahan:
Q – How did you guys prepare emotionally for this type of role, dealing with death and dying?
Zac: When I looked at the character and what was happening, it was very easy for me to picture my life without my brother and how that would make me feel. Just the thought that in someway I could ever leave him behind, was all I needed to get there emotionally.
Q – How did you guys build such a believable brother relationship?
Charlie: Fooling around off set, like inside jokes.
Zac: He would just dive bomb me. I would just walk onto set and out of nowhere it was like arrrghh..woah..crash. We had a blast. Remember that one time, we gave you an energy drink?
Charlie: Oh my gosh, that was so funny. I crashed an hour later.
Zac: We had these Red Bull type energy drinks, but I think they were organic.
Charlie: Burr (director) was like, get the kid an energy drink, right now!
Zac: This was in the car scene. It was like three in the morning when we did that. Both of us were real tired and we both tried these energy drinks. For about three takes we were bouncing off the walls and then ten minutes later, I look over, and he was out.
Q – Charlie, do you have any character that you would really love to play?
Charlie: I've done sad boys who've died, a lot. I want to do a comedy.
Q – What was it like having Kim Bassinger as your mother?
Zac: It was weird. She was too pretty. At the same time, it was amazing. She was so warm and open and sharing. Every time we had scenes together, I couldn't wait to get out there. In between takes, rather than going off and doing something, I would just sit and talk with her. She's got this magnetic personality.

Q – Zac, would you have any advice to give to Charlie, as you know, sort of the seasoned veteran of the fame thing?
Zac: Seasoned veteran? Now I'm the seasoned veteran? You know, I think he's got everything he needs. Just don't change. He knows what's he's doing. Charlie's already present. He's leaps and bounds ahead of where I was when I started. (Looking at Charlie) Dude, you just stick to your guns, man.
Charlie St. Cloud opened in theaters today. So, what are you waiting for? Go see it. You'll LOVE it!
Here are my other posts about Charlie St. Cloud:
Disclosure: Universal Pictures paid my transportation and room costs for a Mom Blogger Press junket. They provided access to the talent behind the movie, but did not tell me what to say. My opinions are all my own.