This post may contain affiliate links. Read my disclosure policy here.
Last year, at BlogHer '09, Susan and I re-discovered Kmart.
Kmart Design, the sponsors of our BlogHer '09 Videos Interviews Series, took a group of us Mom Bloggers to their headquarters for a personal styling and a chance to see what we had been missing at Kmart.
We were all impressed that we found clothes and accessories that fit and made us feel stylish and ready to hit the conference with confidence!
In fact, Susan was wearing her Kmart jeans when we interviewed Tim Gunn — and even Tim was impressed! Tim Gunn said Susan's jeans looked RAPTUROUS!
Here's a fun video of our Kmart styling session with our blogging friends Steph, Jennifer, Esther and Erica that Kmart Design shot and produced last summer:
Yes, Susan and I spent BlogHer '09 dressed in Kmart — even choosing their accessories to go with our evening wear that we wore during our interviews.
This year, we are thrilled to announce that Kmart Design is 5 Minutes for Mom's exclusive sponsor for BlogHer '10.
Today, I sorted through samples from Kmart and headed to our neighborhood tailor to make a few alterations. (Some of the clothes were samples from the fall line and so they had to send us medium sized tops and Susan and I need smalls. So our tailor is working her magic to transform mediums into smalls.)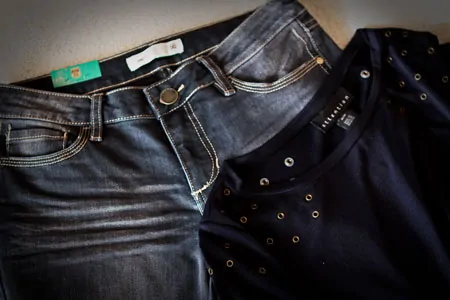 I love these Route 66 Jeans and Attention shirt. (The shirt is from the fall line and is not yet available for sale.)
On Tuesday, in my Tackle it Tuesday post, I will show you a few more peeks of the Kmart Design clothing that Susan and I will be wearing during the conference. (Our evening wear is our own as Kmart Design does not do evening wear.)
But, if you are wishing you could have some new clothes for BlogHer '10, (or for anything!) the outfits I will be wearing average about $40!!! The shirts average about $16.99, the jeans are $19.99, the purses are $19.99, and the necklaces average between $3.99 and $14.99!
These are clothes that work with almost any budget! So if you want a little clothing pick-me-up, head over to Kmart — Sue and I will be wearing Kmart Design too!

Written by Janice Croze, co-founder of 5 Minutes for Mom. I would love to talk with you on Facebook and on Twitter.
Please Note: Kmart Design is our BlogHer '10 sponsor and this post is part of that sponsorship. As well, Kmart Design is providing product samples. As usual, our opinions are always our own.