This post may contain affiliate links. Read my disclosure policy here.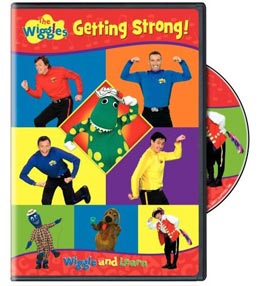 Do your kids like to wiggle?
Since Julia was a little baby, the Wiggles have held a top spot in our DVD player. The lure of these singing and dancing Aussies even pulls Jackson away from whatever he's doing to dance along.
The Wiggles latest DVD release "Getting Strong" is the first in their new series Wiggle and Learn! It is a fun way to help your children learn through play.
Children learn a new dance with "Sporting Salsa," play a version of musical cushions with "When the Music Stop," smell, see, touch, taste and hear with "The Five Senses," explore language with "A Frog Went A Walking," examine comparative use of language with "The Biggest Smile of All" and compare letters and sounds of other languages with "Yiasou Everybody."

DVD special features include:

Sign Language Segment
Safety on the Water
"Dorothy Speaks Warramiri"
"Football with Kate Gill"
Electronic Storybook: "Wags Mixes Some Colors"
We are giving away 5 copies of this new Wiggles DVD.
Simply leave a comment and let us know if you'd like to be entered in our random draw. We'll draw the winners on Nov 2nd. (US shipping addresses only.)