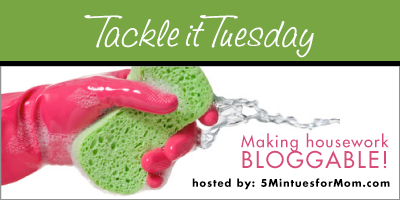 This is Erica here, stepping in for Janice.
Lately I have been seeing posts around the blogosphere with photos of gorgeous inspiration boards covered in magazine clippings, poetry, artwork…all the things that inspire. And you know what, I WANTED ONE! So, I made one. Yep, that was my tackle……and what a fun one it was.
My board is covered in quotes and images of things that mean a lot to me. There are even invites to upcoming events that I am looking forward to. I LOVE my inspiration board. It makes me smile.
I tried all night to get a nice shot of my board, but the lighting in my house is awful and my camera hasn't been behaving properly lately. Please forgive the blurry picture. I hope my board still inspires you, despite the unclear image.
What are you tackling this week? Link up show off…
Tell us what you're up to with all your other tackles… housework and otherwise… add your link to your tackle in the MckLinky below!
Each week on Tuesday, we are posting before and after pictures of a project or trouble area that we tackled this week.

Find out more about Tackle It Tuesday here.
The project can be little or big – whatever you want.

Basically, Tackle It Tuesday is about giving ourselves incentive, deadlines and satisfaction in getting our household tasks done.

(It doesn't even have to be housework… just whatever is on your To Do list.)
If you tackled a project this week, just add a comment and add your link below.
Here is a fun thumbnail style linky…
IF the thumbnail Linky doesn't work for you — or you prefer the old style, you can enter in the linky below.