This post may contain affiliate links. Read my disclosure policy here.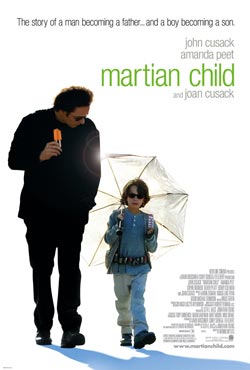 I can't wait to see the new John Cusack movie "Martian Child".
I just wish I could run to a theater right this minute and watch it now! I hate waiting… sigh… but I'll have to wait until next weekend at least. It opens on Nov 2nd. And considering I have a 2 week old nursing infant that likely can't wait for me to watch an entire movie, I'll probably have to wait longer.
But that doesn't mean you have to wait. Call up your favorite friend and tell her to get a babysitter and book off next Friday night. Then surprise her with an escape to see Martian Child.
And don't stop there.
You can also nominate her to win an all inclusive package to a luxurious day spa courtesy of Martian Child.
Here's the deal:
Do you know someone who gives themselves selflessly to others and asks for nothing in return? Here's your chance to give them the recognition and reward they've earned! Nominate your friend/family member/co-worker/etc. who needs an escape from daily life.

Martian Child wants to reward a special person who deserves a day of their own. Enter your information and tell us why he or she should win. The winner will receive an all inclusive package to a luxurious day spa!
So go ahead… nominate your most selfless, giving friend and then take her to see the movie. You both deserve it!