This post may contain affiliate links. Read my disclosure policy here.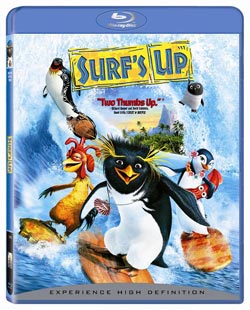 Are you ready to become a hero?
I'm going to take a wild guess here that your kids have heard of a movie called Surf's Up. And if they are anything like Jackson, and about a zillion other kids, they are likely huge fans of this hilarious animated penguin surfing flick.
So we've arranged for one of you to win a fantastic Surf's Up prize pack including a DVD, beach towel (in the form of a surf board!) and plush toys of characters from the movie!
In case you haven't seen it yet, here's the scoop about the movie:
Surf's Up goes behind the scenes of the high-octane world of competitive penguin surfing. Inspired by his hero, the legendary wave rider Big Z, Cody Maverick leaves his family and his town of Shiverpool, Antarctica to travel to Pen Gu Island for the Big Z Memorial Surf Off – Cody's first pro competition. Cody believes that winning will bring him the admiration and respect he deserves. But when he unexpectedly comes face to face with Geek, a washed up old surfer, Cody begins to understand that the greatest champion isn't always the one who comes in first.
The DVD is full of special features:
– Surf Cam documentary
– Making waves documentary
– Storyboard to Surfboard Multi-Angle
– Meet the Penguins – with Mario Cantone
– Original Short – The ChubbChubbs Save Xmas
– Arnold's Zurfinary
– Music Video: "Lose Myself" by Ms. Lauryn Hill
And here are some links for you to check out:
Buy Surf's Up on DVD:
Buy Surf's Up on Blu-ray™
Visit the official website for Surf's Up for more information:
http://www.sonypictures.com/homevideo/surfsup/
Clips:
Trailer
DVD trailer high resolution in .asx format
DVD trailer low resolution in .asx format
DVD trailer high resolution in .ram format
DVD trailer low resolution in .ram format
What Makes A Winner
"What Makes A Winner" high resolution in .asx format
"What Makes A Winner" low resolution in .asx format
"What Makes A Winner" high resolution in .ram format
"What Makes A Winner" low resolution in .ram format
If you want to win this fun prize pack, just leave us a comment and let us know. We'll draw a random winner on Thursday, Oct 25th. (US shipping addresses only.)