This post may contain affiliate links. Read my disclosure policy here.

Project to Tackle: Julia's Old Baby Clothes
Since Janice is taking a week off, she asked me to tackle something.

Finding a project to tackle in my house is not hard. I definitely spend way too much time at my computer and not nearly enough time housekeeping.

So, I chose the most obvious project that demanded immediate attention.

The other day I had started to sort out Julia's old baby clothes and only got far enough to make a mess. I had stacked all her old clothes on the rocking chair in her room and kept procrastinating on finding a new home for them.

To fix the mess, I found a container and negotiated a space on a shelf in my garage. Then I rather tearfully placed her tiny little outfits in the bin to store away until God grants us another little treasure.

So here is my before picture:
The Rocking Chair of Clothes – Before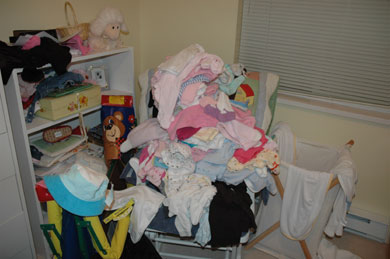 And here it is after: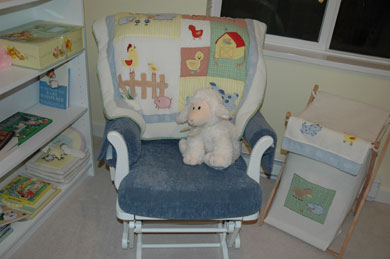 Join Us For Tackle It Tuesday

Each week on Tuesday, we are posting before and after pictures of a project or trouble area that we tackled this week.

I will link to any of you who are also playing along, so add a comment and/or email me. Find out more about Tackle It Tuesday here.

The project can be little or big – whatever you want. Basically, Tackle It Tuesday is about giving ourselves incentive, deadlines and satisfaction in getting our household tasks done.
If you tackled a project this week, just add a comment and add your link below.