This post may contain affiliate links. Read my disclosure policy here.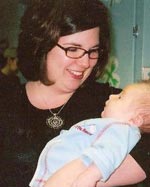 *** Monthly Feature Column ***
October – Ooey, Gooey Science Activities
by Tara Rison.
It is always difficult to believe it is truly fall because here, in Charleston, SC, we are still wearing shorts and t-shirts. However, once I see all of the Halloween costumes, decorations, and candy, I am reminded that fall is upon us. Once my children notice these retail additions, they begin planning, in great detail, about what type of costume they would like to wear, the scarecrow they are going to make, and the treats they would like to bake. AHHH, fall!!!
Determined to enjoy this season, I made a point to plan ahead. So far I am doing well; I have already purchased costumes, decorated my porch, and baked some Halloween cookies. In fact, I am ahead of the game. So, I thought this would be the perfect time to introduce my children to the world of "Ooey, Gooey, Science Experiments". When I was teaching I loved these activities, almost as much as my students so I know my children will appreciate them, as well.
These experiments are great for young children. Not only are they exciting and fun, but they are also messy! YEAH! It is a lot of fun to see how interested and involved the children become. Just be prepared for some clean up!
OOBLECK
Literature connection – Bartholomew and the Oobleck by Dr. Seuss
Items to collect
newspaper
measuring cups
1 cup of dry cornstarch
large bowl or pan
green food coloring
½ cup of water
Directions
1. Cover your table or counter with newspaper.
2. Put the cornstarch into the bowl or pan. Add a few drops of food coloring.
3. Add the water slowly, while mixing.
4. Continue to add water until all of the oobleck feels like a liquid when you're mixing it.
5. You will know that you have the perfect consistency when you can tap on the surface of the oobleck and it feels like a solid. If it seems too powdery, add a bit more water. If it seems too wet, add more cornstarch.
6. Play and experiment.
Things to talk about
Is Oobleck a liquid or a solid?
What happens when you pick up a handful and squeeze it? What happens when you open your hand?
Making Mud
Literature connection – Mud Puddle by Munsch
Items to collect
Large plastic tub (or Rubbermaid bin)
Bag of potting soil (or gardening dirt)
Pitcher of water
Small plastic animals
Plastic measuring cups, spoons, bowls, etc.
***Wear old clothes. This can be messy!
Directions
1. Fill up your tub/bin with the soil. Have your child feel and observe the soil.
2. Level the dirt and then, using your hand, create some small dents in the surface. These will be used to create mud puddles.
3. Have your child slowly pour the water onto the surface of the soil/dirt. Keep pouring until the soil has absorbed all of the water it can hold.
4. Add a bit more water to the "dents" to create the "mud puddles". Have your child feel and observe the mud.
5. Allow your child to use the small plastic animals, spoons, and bowls to play in the mud.
Things to talk about
How did the dry soil feel? What did it look like?
How does the mud feel? How does it look different than the dry soil?
Are there any other differences you notice?
I hope you all have fun with these activities. As always, if you have any creative fall ideas to share please email them to me at [email protected] I will then post them to my monthly resource page.
For more literature-based activities, order one of The Itty-Bitty Bookworm's Curriculum Kits or CDs.
October's CD and CD and Book Set will be 50% off from Sat., Oct. 13 – end of the month.
Read inch by inch,
Tara, Founder
The Itty-Bitty Bookworm