This post may contain affiliate links. Read my disclosure policy here.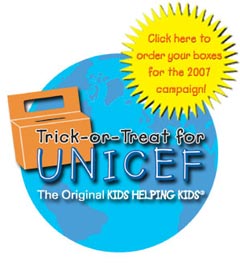 Were your Halloween trick or treating trips accompanied by that memorable little orange box?
Ours sure were… and it felt so great to be doing something to help other kids while we were in pursuit of overflowing bags full of candy.
These days, in my neighborhood it doesn't seem that those UNICEF boxes are as commonly given to children. I think in my day we were given them at school, which certainly made it easy to ensure that all kids toted a box with them on that special sweet-filled night.
But, even if I haven't seen as many orange boxes appearing at my door these past few years, Trick-or-Treat for UNICEF is still going strong.
Collection boxes are available at several retail locations, including Pier 1 Imports and Hallmark Gold Crown stores. Also, they can be ordered online at unicefusa.org/trickortreat or by phone at 1-800-4UNICEF.
UNICEF uses the hard-earned funds of its youngest fundraisers to provide clean water, health care, food and education to children in 156 countries and territories

What Can UNICEF Do With a Box Full of Change?

$1.20 provides protection to a mother and her newborn against
tetanus
$3 provides a warm blanket to a kid in an emergency
$17 immunizes a kid from six killer diseases
$176 buys school supplies for 80 kids
Let's all keep supporting this fantastic time-honored tradition and make sure that UNICEF stays a part our children's childhood memories.