This post may contain affiliate links. Read my disclosure policy here.
A TONKA truck of course!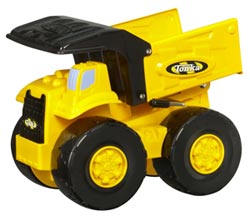 TONKA is having it's 60th birthday this year and is celebrating the rough-and-tumble playtime fun that their 250 million trucks have brought children all over the world.
In 1947 the very first TONKA truck was made. Since then TONKA has remained the top trusted name in rugged vehicle play.
Now I realize that TONKA trucks are built with boys in mind, but I have to say that I loved to play with TONKA trucks when I was little. Janice and I were quite the tom-boys and often chose to play with cars and trucks over dolls.
What about you – did you play with TONKA trucks? Do your little girls like to play with trucks? I can imagine if you have boys, that your boys own at least one of these mighty yellow machines.
To celebrate their birthday, TONKA is giving one of your children a present! How fun is that? Leave a comment and tell us how TONKA has touched your life and we'll enter you in a draw for a TONKA truck prize package.
US shipping addresses only. We'll draw the winner Saturday, Oct 20.