This post may contain affiliate links. Read my disclosure policy here.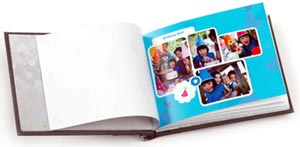 Now even the creatively-challenged, too-busy, do-it-tomorrow types of moms like me have no excuse.
HP has made it so simple to create a professional looking photo memory book that even I have to admit I can take a few minutes to capture my family's memories.
These days scrapbooking seems to be the hobby for moms. But some of us are either too intimidated or too busy to take up the craft. And so our photos remain as bits and bytes on our hard drives, or collect dust in cardboard boxes. (Janice loves to scrapbook but hasn't made time for it in the last couple years. I'm a bit embarrassed to admit I have never even attempted to scrapbook.)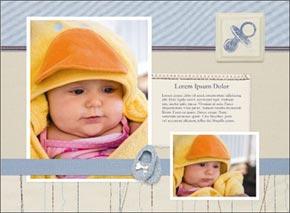 But now, with these easy to use photo books from HP, busy moms like myself can create a photo book complete with inspiring designs, custom captions and journaling.
The photo books come in a variety of colors and in two sizes: 5″ x 7″ or 8.5″ x 11.
You can print the pages on any inkjet printer or for an even more professional touch, you can use an HP Photosmart printer. In August we featured the HP Photosmart A626 Compact Photo Printer which you can use to print 5″ x 7″ photo books.
Creating your photo book is a simple 1-2-3:
Into your computer, insert the CD that comes with your new photo book and run the simple install program.
Point and click your way through the wizard to choose your design, size, layout, and photos—even add text.
Press print, then stack and slide your pages into the photo book. You can add new pages whenever you like.
The unique binding allows you to insert other memories such as wedding invitations, birthday cards, birth announcements and more.
You can all get started with these photo books right away…
Two of you will receive a free book and everyone else can save 20% on their own photo books until December 31st by clicking here.
If you'd like to be entered in the draw for a free photo book, let us know in a comment on this post.
(This contest is limited to US shipping addresses.)
We will draw the two winners on Tuesday, Oct 25th.
Happy memory making!