This post may contain affiliate links. Read my disclosure policy here.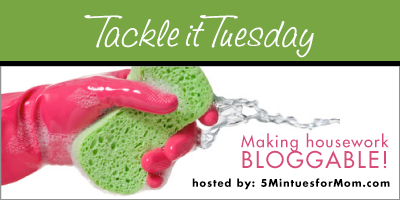 Hi everyone. It's Erica here. I am the trusty assistant here at 5 Minutes for Mom and happy to take over for today's Tackle It Tuesday.
Last fall I tackled a Kaper Chart that I had created for my Girl Scout troop. I was a brand new leader with a brand new Daisy troop. Well, my girls and I had a fantastic Girl Scout year and a couple of weekends ago, we ended the year with a troop camping trip.
Now as their leader and planner of the trip, I was a bit worried. See, I had NEVER been camping before and had NEVER started a campfire before. I had a bit of anxiety leading up to the trip. I just knew that I wouldn't be able to start the fire and would have to ask some of the moms on the trip to help. Oh, but what if the other moms didn't know how to start a fire?
To help calm my fears, I talked to a few friends who go camping regularly, and they told me I was worrying for nothing. They assured me that starting a fire was a piece of cake.
So the day of the camping trip arrived. My Daises and I enjoyed some hiking and made some crafts. Then it was time for the campfire. There were songs to be sung and S'mores to be made.
When we hiked earlier in the day, we collected sticks and brush. I also brought along some homemade firestarters, made with empty egg cartons, dryer lint and melted wax. I put my trusty firestarter down, made my teepee of sticks and lit the match. And behold, there was fire!!!
I admit, I was really excited and relieved. I let it burn for a bit, added the logs and we had a beautiful fire (and scrumptious S'mores).
Here is a little video from the evening. It is dark and a bit hard to see, but the girls are just too cute, I couldn't resist posting it.

Are you getting any TACKLING done this week? Link up show off…
Tell us what you're up to with all your other tackles… housework and otherwise… add your link to your tackle in the MckLinky below!
Each week on Tuesday, we are posting before and after pictures of a project or trouble area that we tackled this week.

Find out more about Tackle It Tuesday here.
The project can be little or big – whatever you want.

Basically, Tackle It Tuesday is about giving ourselves incentive, deadlines and satisfaction in getting our household tasks done.

(It doesn't even have to be housework… just whatever is on your To Do list.)
If you tackled a project this week, just add a comment and add your link below.
Here is a fun thumbnail style linky…

IF the thumbnail Linky doesn't work for you — or you prefer the old style…
Did you know that Susan and Janice also have a pedal car store and a rocking horse store?