This post may contain affiliate links. Read my disclosure policy here.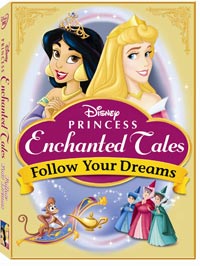 Nothing quite matches the magic of a Disney Princess.
Little girls are naturally drawn to the beauty and fantasy of princesses. And the stories in this Disney Princess Enchanted Tales: Follow Your Dreams DVD teach children the power of believing in themselves.
The accompanying Disney website has some wonderful resources to help you and your children get the most out of your DVD. You'll find Storybooks, Greeting Cards, a Music Video, Tips for Parents and more.
Click here for a sneak peak of the DVD and click here to see the music video.
If you have a little girl who loves Disney Princesses, leave us a comment and ask to be entered in our draw. We're giving away three copies!
US shipping addresses only. We'll announce the three winners on Tuesday, October 16th.