This post may contain affiliate links. Read my disclosure policy here.
Slim, sleek and ultra-chic.
She's dressed in pink and takes fabulous photos.
Her mission is promoting awareness and education about breast cancer.
Who is she?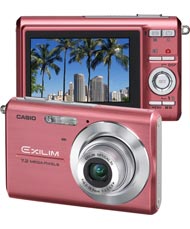 She's the Casio Pink EX-Z75 digital camera specially bundled with a camera case with pink stitching and a pink ribbon-clad lanyard to show support of the National Breast Cancer Foundation (NBCF).
Yes, October is National Breast Cancer Awareness Month and Casio is putting on the pink.
They've taken their pink EX-Z75, a 7.2 megapixel digital camera which is part of Casio's highly-regarded zoom line of EXILIM cameras, and are offering it with this special camera case and pink-ribbon lanyard for the month of October.
The special-edition pink EX-Z75 will be available beginning October 2007 and can be purchased at Sears, La Curacao, Fred Meyer, BJ's, Nexcom, AAFES, Staples, and Future Shop. The bundle package will have an MSRP of $179.99, and will proudly sponsor the National Breast Cancer Foundation. For more information, please visit www.casiousa.com.
We're so excited to offer one of you lucky readers your own special-edition pink camera.
Casio has generously offered to give one of these sleek pink beauties to one of you. If you help to spread the word about this campaign to promote breast cancer awareness on your blog, then add a comment to this post, we'll enter you in the draw for a free special-edition pink EX-Z75 Casio digital camera.
(If you're not a blogger, you can still enter… just spread the word amongst your friends.)
We have to limit to US shipping addresses, so Canadians you can enter if you live close enough to the border to pick it up in the US.
We'll draw the winner on Friday, October 26th.
And remember to visit the National Breast Cancer Foundation and the Breast Cancer Site for more information about how you can help promote awareness.