This post may contain affiliate links. Read my disclosure policy here.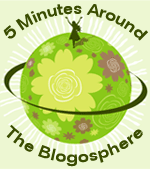 Today is Sunday which means another round-up of some really great things going on in the Blogosphere. Thank you for joining me again this week.
Here we go . . .
CONTESTS & GIVEAWAYS
Looking for a blog makeover? The Front Porch is holding a giveaway where the winner will receive a blog redesign by Art Designs by Christi. All you need to do is write a post saying why you'd like a blog makeover then leave a comment on the giveaway post. You have until October 11th to enter.
Are you a fan of Dancing With The Stars? How would you like to win the original dress that Julianne wore when dancing the Rumba with Anton Ohno? I'm not kidding! To enter, just visit Gather, register with their site, and send an email to them with Dancing With The Stars Sweepstakes in the subject line. Deadline to enter is 5pm EST on October 31st.
Word World is a brand new kids series on PBS. I actually had the opportunity to review this show and thought it was amazing at the way they use visualization to help kids read. You can win a Word World DVD at I'm Not Just A Mom . . . I'm a Home Mom by blogging about this on your site and linking back to the giveaway post and Word World. Don't forget to sign the Mr.Linky so she knows you're participating. Deadline to enter is October 15th.
What child doesn't love to see or hear their name? Carrie of Life is Like a Mountain Railway is holding her very first giveaway and it's a great one! You could win a photo personalized kids DVD, a personalized music or sports broadcast CD, or a personalized children's book. To enter, just head on over to Kids Personally and check out their great products. Then go back to the giveaway post and leave in comments the items that you'd like in each of the prize categories. This contest ends on October 12th, midnight.
Bring a little of the Hawaiian Islands to your home by entering Sheila's giveaway. Just subscribe to her site via email or RSS and look for the hidden message which will be included some time before November 15th. For more information, stop by Go Visit Hawaii.
Win a bottle of Skin MD Natural (value $25) by leaving a comment before October 9th at An Island Review saying which part of your body needs this the most. A random winner will be selected on October 10th.
iMommies is a website "to support ALL Mommies everywhere in their passion to cultivate family life and in their pursuit of an improved lifestyle. From "soccer moms" to "working girls," we've got you covered!" In support of Breast Cancer Awareness Month, they're giving away a pink iPod Shuffle! Stop by iMommies before October 31st for all the details.
Christine of From Dates to Diapers and Beyond is having a birthday! To celebrate, she's holding a week long party and you're all invited. There will be games, prizes, and fun for all. Mark your calenders because the events start on October 21st.
Love Letters to a Child: A Resource for Parents and Grandparents is a great book that gives some useful ideas on how to journal your thoughts and feelings so that one day your children will be able to look back on some wonderful memories. If you head on over to Our Seven Qtpies, she's giving away a signed copy of this book to one lucky random winner. To enter, stop by Our Seven Qtpies before October 14th.
Did you know that October is also Vegetarian Awareness Month? To celebrate, Crunchy Domestic Goddess is giving away a copy of Herb, The Vegetarian Dragon. You have until October 16th to stop by there and enter!
In celebration of Halloween, Amanda is having a Surprise Halloween Giveaway. To enter, just write about the contest at your site then let her know you're participating via comments. You have until October 10th so hurry on over there!
COOL WEBSITES
Those of you with young children know how hard it can be to find the perfect babysitter. Well, there's this website called WillUSit that offers resources that will help you solve this problem. It's still pretty new so try it out and give them your honest feedback.
Think your child is the cutest? Enter the monthly photo contest at White Cloud and you could win some great items including cash prizes!
ANNOUNCEMENTS
Know a really great blogger? Nominate them for the Blogger's Choice Award!
Overwhelmed With Joy is holding a holiday recipe swap, Holiday Cooking Blogger Style. Just post your favorite tried and true holiday recipe for all to try. Then sign the Mr. Linky and start visiting the other participants. This sounds like fun!
Blog Action Day is coming up on October 15th and the theme is The Environment. On this day, every participant will be posting about this theme in their own way in relation to their blog. Now is a great time to start thinking about how the environment relates to you.
Are you a Fashionista? Do you love to review products? Are you a writer? SheFinds.com is looking for freelance writers to post every week, try out new products, and sometimes go to press events (if you're in SF, Miami, NYC, LA or Chicago). You'll be paid a SMALL monthly stipend, get a writing credit and receive a ton of freebies for review. If interested, stop by SheFinds for more information.
GREAT DEALS
Get a free sample of Betty Crocker Warm Delights Minis. I've actually tried these before and for something that is microwavable, it's really good!
Free sample of Dunkin' Donuts Coffee from WalMart.
Free bowl & spoon from Beech Nut.
Free sample of Cottonelle Fresh Flushable Moist Wipes from Sam's Club. Great for kids!
Free sample of Huggies Diapers new size, 1-2 for new babies.
If you would like to have a post on your blog featured in 5 Minutes Around The Blogosphere, please send us an email at features5minutesformom at gmail dot com and we'll see if it can be arranged.
Kailani can be found at An Island Life and An Island Review.