This post may contain affiliate links. Read my disclosure policy here.
I love hearing from other moms…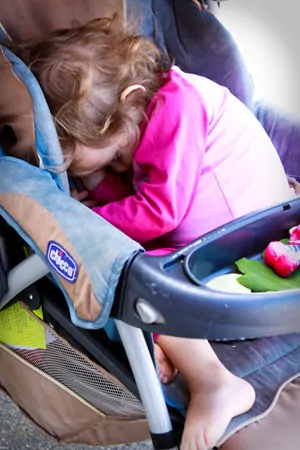 My two and a half year old Sophia is at that stage where if she has a nap, it's a nightmare getting her to sleep at bedtime, but if she doesn't, it's a nightmare UNTIL she goes to sleep at bedtime.
I remember going through the same stage with Julia. Although I admit, since she was my only child, I was very often tempted to nap WITH Julia which led to an extra long nap and extra late night.
Julia mostly stopped napping around 3 and a half years old and Sophia, who is still two, still naps on most days. But with the trouble I'm having at bedtime, I'm starting to wonder if I should try to eliminate her naps all together.
Janice's daughter, Olivia, stopped napping right around her second birthday. And if she does have a nap, she will not sleep until earliest 10pm. Understandably, Janice is the nap police, never driving or putting Olivia in the stroller in the afternoon.
Janice's son, Jackson, went through a good year of nap needing nightmares until he finally kicked the habit at three. But until he was four or five, he was still in danger of falling asleep in the afternoon if you let him watch TV or drive in car. Like Olivia, he also would be up until 11pm if he napped and so Janice was vigilant on trying to keep him up during the day.
So tell us, when did your children stop napping?
[poll id="13″]