This post may contain affiliate links. Read my disclosure policy here.
Mingle and Mix at our Fourth of July Link Up
Grab a hot dog and pull up a browser… It is time to share our July 4th photos and memories.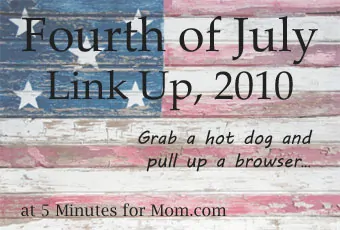 It is why we moms love to blog — showing off our pictures, telling our stories, and chatting with new friends and old. So, of course we need to have a little blog party here so our holiday weekend fun can continue all week long!
And thanks to our sponsors, Hebrew National, we also have a fun giveaway for our Fourth of July party! Two winners will each receive a $50 Amazon Gift Card!
Now, it is a little known fact that Susan and I are Canadians. But, since we own American sites and stores, we relax when YOU all have a national holiday! Only then do our phones stop ringing and our inboxes not fill up.

So, if you don't mind, we join in on your holidays too.

But we still are Canadians of course! So on July 1st, our Canada Day, we dressed our children in red and pulled out the hot dogs. (I ate three. I know. But they are sooo good!)

I shared our family photos from Canada Day on Friday. AND for all my fellow Canadians, we also posted a Canada Day Link Up.
Here is how our Fourth of July Link Up works:
Write a Fourth of July post on your blog.
Come back and add the URL of your blog post to one of the linkies below. (We have a fun thumbnail linky and a basic linky — use whichever you prefer.)
Then get out and visit other blog posts! Make sure you leave a comment letting them know you visited.
If you are not a blogger, leave a comment about your Fourth of July and hop through the linkies and find some great new friends!
For the Prizes:
Thanks to our favorite hot dog makers, Hebrew National, we have prizes!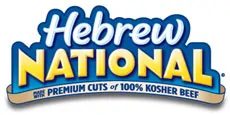 To be eligible for the prizes, you need to leave a comment on this post. We will draw the winner from the comments. Please leave only one comment.
Hopefully, you are participating on your blog and have included your link in the linkies, but we wanted to let non-bloggers participate too.
We will draw two random winners from the comments — each winner will receive a $50 Amazon Gift Card.
Canadians can participate too, just leave a comment with a link to your Canada Day post or letting us know you participated in the Canada Day Link Up. Or if you are not a blogger, you can simply share in the comments about your holiday celebrations. Remember: Canadians, please put your link in the CANADA DAY LINK UP, 2010 so the Canadians can find each other.
Entries will close on July 16th, 2010, and we will announce the winners on July 17th, 2010.
This giveaway is open to US and Canadian residents only and is void where prohibited. Please see our site's terms and conditions of use for complete rules.
As usual, the goal of our link ups is to help you find each other and build bloggy friendships! So have fun hopping around the linkies leaving comments as you go!

And thanks again to Hebrew National, for sponsoring our Fourth of July Link Up here at 5 Minutes for Mom!
The Linkies!
Here is a thumbnail linky. Remember to put the URL of your actual July 4th post, not of your homepage.
And here is a basic linky.


HAVE FUN!!! And Happy Fourth of July!