This post may contain affiliate links. Read my disclosure policy here.
Rayovac Powers Your Summer Twitter Event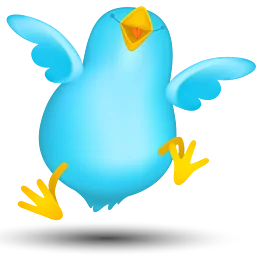 We want you to party with us Twitter-style on Wednesday night! We're talking summer fun…
Join Rayovac and 5 Minutes For Mom for a Twitter Event to support the exciting Rayovac Powers Your Summer Promotion. The evening will feature 20 prizes from Rayovac ranging from a summer supply of Rayovac Batteries to $50 Target Gift Cards.
Rayovac Powers Your Vacation Summer Promotion Twitter Event
Date:
Time:
Location:
Follow:
Wednesday, June 30, 2010
7:00 p.m. until 9:00 p.m. Central (5-7 Pacific, 8-10 Eastern)
#rayovac
@Rayovac_Battery, @5minutesformom
A total of twenty (20) winners will be selected. Each of the twenty winners will receive one (1) of the following prizes:
(10) $50 Target Gift Cards
(10) Rayovac Battery Variety Packs ranging from (AAA-12 pack), (AA-12 pack), (C-8 pack), (D-8 pack) (9V-3 pack) approximate total value ($35)
RSVP with your Twitter Handle Here:

To help you find other tweeps participating in the party, leave your Twitter Handle here.
(You do not have to leave your handle to participate in the party.)
We will try to follow everyone in this list from our @5minutesformom account and we encourage you to follow each other as well.
Remember to follow @Rayovac_Battery and watch hashtag #rayovac
Rayovac Powers Your Summer Promotion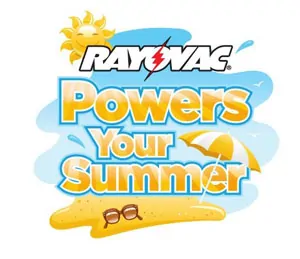 Moms and kids just want to have fun and Rayovac has the power to make it happen!
From June 21st through July 20th, we are empowering families to have fun through the Rayovac Powers Your Summer Promotion. Show us you "like" the brand and products on Facebook at www.facebook.com/Rayovac and together with expert moms at 5MinutesForMom, we will offer up great daily summertime family tips and a chance to win great prizes. Then access and complete the entry form on Rayovac's website at www.rayovac.com/PowersYourSummer.
Simply tell us how you'll power your fun this summer each day, for a chance to win prizes ranging from Cameras and Bikes to Camping Supplies and a Summer Supply of Rayovac Batteries!
No trick questions here! There is no correct answer to how you and your family add the Power of Fun to your summer! NO PURCHASE NECESSARY. VOID WHERE RESTRICTED OR PROHIBITED. Must be a U.S. resident and 18 or older at the time of entry to enter this Promotion or the Twitter Event.
The promotion begins at 7:00 p.m. (CDT), on June 30, 2010 and will end at 9:00 p.m. (CDT), on June 30, 2010.

To participate, follow @5minutesformom and @Rayovac_Battery. Participants will be asked to answer trivia questions tweeted by @5minutesformom.

One (1) participant per one (1) trivia question will be eligible to win. A total of (20) trivia questions will be tweeted by @5minutesformom from 7:00 p.m. (CDT) to 9:00 p.m. (CDT). A total of (20) winners will be selected.

Participants may answer each trivia question more than once, but will only be entered one time for each question. Each participant answering the trivia question correctly will be entered to win the prize stated for the accompanying trivia question. Winners of each trivia question will be chosen randomly.

Winners of each trivia question will be notified via a tweet from @5minutesformom, before the next trivia question is tweeted. Winners must direct message @5minutesformom with their mailing address in order to receive prizes. Prizes will be shipped to winners no later than Friday, July 2, 2010. Click here to view official rules.

Disclosure: This post and twitter event are part of a promotional campaign with Rayovac.