This post may contain affiliate links. Read my disclosure policy here.
Happy Father's Day!
This past week my son cried almost every night. Jackson was heartbroken that his Dad was going to be gone fishing on Father's Day. Phil wouldn't be returning from his three day trip until Jackson's bedtime on Sunday night.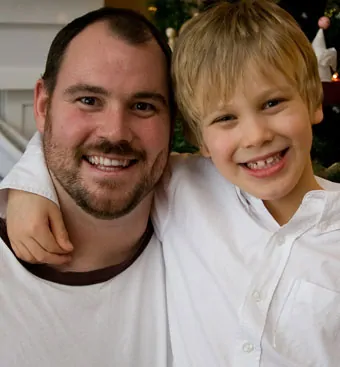 I tried to comfort my son. "Jackson, you are so lucky that you have a Daddy! And he is only gone for a few days!" But it didn't help. Jackson is sensitive and sentimental. He wants his Father for Father's Day.
But listening to Jackson's cries punctuated my own feelings about Father's Day. It wasn't a perfect day in my world growing up. Let's just say, I didn't have a great relationship with my father.
I am so grateful that my son has a Daddy he wants so badly to be with on Father's Day — and a Daddy who is there for him, even though he will miss this "day" by a few hours.
So, for all of you out there who don't have your "Daddy," or you never had a "Daddy," or your kids don't have a "Daddy," I send you my love and hugs. Please remember you do have the perfect "Daddy" in Heaven — the only one who will never leave you or disappoint you.
For all you out there who have wonderful Fathers in your lives, I hope this day is blessed and beautiful as you honor them for all they do.
And, most importantly, to all of you Dads out there — please be encouraged. Being a loving, constant force in your child's world is one of the most important things, if not the most important thing, you will do on this earth. Nothing can replace having a great father — it is an incredible gift that forever changes a person's world.
Father's Day Link Up
If you have a Father's Day post you want to share, and if you want to find other posts to read, we have got you covered!
Link up below — we have a thumbnail linky if you prefer the visual style and a basic linky if you just prefer your linkies the good ole fashioned way!
Thumbnail Linky:
Basic Linky: