This post may contain affiliate links. Read my disclosure policy here.
Earlier this month we ran a review and giveaway for the adorable Bitty Braille handmade t-shirts. And one of our fellow bloggers, Erna from Sweet Serenity, let us know about a little girl who truly deserves one of these precious braille t-shirts.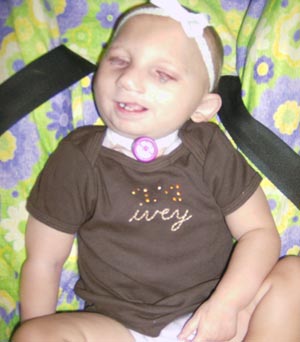 Ivey is a beautiful little girl who has been handed a tough set of obstacles to overcome.
She has a "rare genetic syndrome as a result of a deletion in her 21st chromosome. She has anophthalmia, which means that she was born without eyes. She also has a trach and a feeding tube."
But God has granted her many blessings and you can read more about Ivey's life at her blog.
When Erna saw the cute Bitty Braille t-shirts, she immediately thought of Ivey and knew that Ivey would be blessed by a braille shirt of her own.
The wonderful folks at Bitty Braille agreed that Ivey should definitely have a shirt, and they lovingly donated a custom printed "Ivey" t-shirt to her.
You can see a sweet video of Ivey showing off her t-shirt on her blog.
Thank you to Erna and Bitty Braille for adding an extra reason to smile for Ivey and her family.