This post may contain affiliate links. Read my disclosure policy here.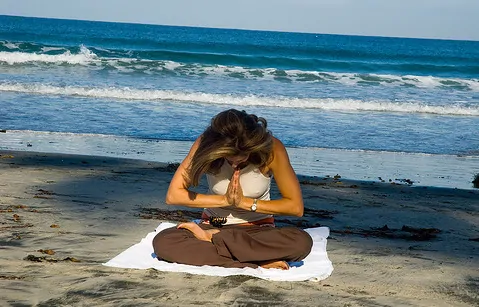 At yoga class this morning, I learned more than a few new poses.
Our instructor began the class with a story…
The day before as she was working in her garden, her husband unknowingly locked the house door and took their children to soccer practice.

A few moments later, she left her spot in the garden to go inside and start cooking dinner. But she soon realized, she was locked out!

And then it hit her. She could allow herself to get angry about being locked out of the house and unable to keep her schedule by preparing dinner while the kids were out at soccer, or…

She could accept this time as an extra hour given to her to do with as she chose.

She relaxed with the thought of it. She puttered around the garden for a while and then sat down on the porch to read the neighborhood newspaper… something she'd normally never take the time to do.

When her husband and children returned home an hour later, he was shocked to learn that she wasn't angry with him for his mistake. She explained that instead she'd taken it as a gift of time.
This story stuck with me for the entire yoga session and still hasn't left my mind.
I'm a terribly impatient person. In fact, much of my stress, irritability or dare I admit… times when my temper gets to me… are because I'm impatient. I want things right away. I know I would have not had such a zen response to being locked out of my house.
But I'm going to try and learn from her lesson.
What a powerful response to having to wait for anything. To treat that time instead as a gift. I live in a constant battle with time, wishing only for more of it. So what if the next time I'm locked out of my house — literally or figuratively — I instead accept the gift of time and do with it as I choose.
What about you?
How would you have reacted? What will you do the next time you're locked out? I'd love it if you left me a comment to tell me what you think.

(By the way, I took the photo above of the yoga instructor during our Yoga-on-the-Beach session at the Kashi Mom Blogger event last year. She is not the same instructor as in this story.)
Written by Mom Blogger and 5 Minutes for Mom co-founder, Susan Carraretto
Tweet with me @5MinutesForMom