This post may contain affiliate links. Read my disclosure policy here.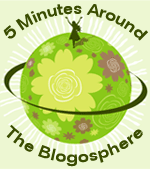 Mahalo for joining us again at this week's 5 Minutes Around The Blogosphere. There are a lot of things going on so let's get started!
CONTESTS & GIVEAWAYS
Boutique Cafe & Philips have teamed up together to bring you the "Family Photo Contest". You may enter to win one of 4 spectacular Philips Digital Photo Frames in their gorgeous seasonal design! All you need to do is submit a photo of your family in action! For more information, stop by Boutique Cafe before October 25th. Don't miss out!
Win a free kitchen gadget! Over at Almost Vegetarian, she'll be reviewing a different kitchen gadgets every day this week. Then at the end of the series, she'll be giving away the most expensive gadget reviewed. All you need to do is submit your kitchen gadget story in the Sept. 28th comment section (you have until Oct. 4th to do this) and she'll pick the best one. Tell them 5 Minutes for Mom sent you!
Karen is participating in the Buy A Friend a Book Program and you're all invited to enter your name in her giveaway. Just stop by Write From Karen and leave a comment saying that you're "in". A random winner will be selected on October 4th.
Looking for a face-lift? For your blog, I mean. Splat Creative Designs is holding a giveaway for a free custom Blogger blog template. To enter, just visit Splat Creative Designs before October 3rd and sign the Mr.Linky. You'll also need to post her giveaway button on your site to be eligible. There are other prizes as well so check it out!
Here's another blog design giveaway! A Frog In My Soup is giving away a free blog design on the new Blogger platform courtesy of Sweet 'n Simple Designs. Just sign the Mr. Linky on the contest post before Oct 10th. Don't forget to spread the word!
Woman's Day Magazine is giving away a Dell 37″ HDTV from Warner Brothers! To enter, just fill out the entry form before October 11th. Good luck!
Now that the kids are back in school, you probably have a lot of stories to share. SuperFundraisers.com is holding a group writing project where you could win $25 to Amazon.com. The theme is Back-to-School and can be about anything related to K-12 schools. For more information or to enter, please stop by the contest site before October 5th.
Halloween will be here before you know it! To help your kids get into the spirit (get it?) Crunchy Domestic Goddess is giving away an adorable Halloween t-shirt from Cute as a Bug. To enter, just post something about the giveaway at your site and sign the Mr. Linky on the giveaway post before October 5th.
COMMUNITY AWARENESS
Toy Recalls – Are you overwhelmed by all the latest information regarding the recent toy recalls? Katja of Skimbaco has done an amazing job in researching and putting together a very useful post to help all of us understand the chaos better. You can read it in Be Smart About Toy Recalls! Mattel Fights Back – So Should You.
Teenage Driving Safety – "For teens, learning to drive is a right of passage. For parents, it's a mixture of pride at seeing their child reach another milestone and of worry over their safety. Automobile crashes are the leading cause of death among American teens, accounting for more than one-third of deaths among 16-to-18-year-olds." For more information about this very important topic, please visit www.NationwideSmartRide.com .
COOL WEBSITES

The Momference is the first ever global telephone conference created especially for busy Moms – and it's convenient! Teleconferencing puts you in a "virtual meeting room" with thousands of like-minded women from all over the country… all without the hassles of travel or getting a babysitter!


1. Find topics you're most interested in from 30 expert speakers.
2. Phone in at the scheduled time.
3. Hear the speaker present expert information you can use today!
4. Participate. Share your thoughts… get your questions answered.
ANNOUNCEMENTS
Melissa at a writer's woolgatherings is looking for contributing writers for her weekly Up For Debate column published every Friday. Articles must be family-friendly and contain between 250 – 1000 words. Stop by her site for more information.
If you like digital scrapbooking, you'll love this! Lisa of The Scrap Princess is having a Digital Scrapbook Blog Carnival on October 1st. Stop by and check out all the great submissions she received for this edition. You can also email her your projects and she'll add you on. It's a scrapbooker's paradise!
Did you know that tomorrow is World Vegetarian Day? If you'd like to participate in going meat-free for the day, stop by Crunchy Domestic Goddess and join in! Just sign the Mr. Linky and share your favorite vegetarian recipe.
GREAT DEALS
Would you like a free sample of Fizzy Wizzies? You know, those little tablets that turn the bathwater into different colors? For your 25 tablet sample, just fill out the request form.
Hurry, supplies are limited!
How about a free drink from Starbucks? Click here, fill out the registration form, and receive a free gift card in the mail. I got mine!
For a free sample of the new NutraSweet Swirl, click here.
And last but not least, don't forget to order your Sears Wish Book Catalog for the holidays!
If you would like to have a post on your blog featured in 5 Minutes Around The Blogosphere, please send us an email at features5minutesformom at gmail dot com and we'll see if it can be arranged.
Kailani can be found at An Island Life and An Island Review.