This post may contain affiliate links. Read my disclosure policy here.
Professor Pocket will get your kids singing and speaking Spanish!
Professor Pocket™ takes a completely fresh approach to language introduction. Instead of bombarding listeners with vocabulary words, we seamlessly weave English and Spanish dialogue throughout our CDs and reinforce key concepts and vocabulary through songs.

All of this is done from the perspective of our lovable, sometimes silly characters, Professor Pocket, Desi the Dinosaur and Chico the Chicken.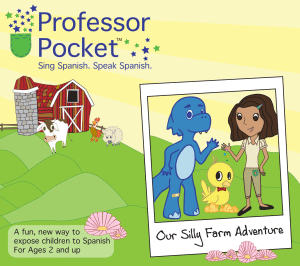 As parents, we all want our children to have every advantage possible. And we keep hearing how important it is for our children to have early exposure to a second language. But for the majority of us, we only know one language… so what are we to do?
Well, Professor Pocket is here to help. This CD's unique format of naturally integrating English and Spanish dialog and songs creates a fun way to get your kids excited about Spanish.
And to supplement the CD, their website provides additional resources for Song Translations and Vocabulary Lists.
Within months of launching their debut album, Our Silly Farm Adventure, Dr. Toy awarded Professor Pocket as one of the Best Products for 2007.
And yes, two brilliant moms are behind this product. Nathalie Simmons Jorge and Paula Jorge Guglielmino are sisters-in-law and together they created Professor Pocket. Their mission is to empower families to raise bilingual children. They co-wrote the script and lyrics for the first album Our Silly Farm Adventure and they are now working on creating the second magical adventure.
So let's get behind these hardworking moms and spread the word about their fantastic product.
No we didn't forget about your chance to win one… leave a comment for your chance to win one of five copies of Professor Pocket — Our Silly Farm Adventure.
We'll draw the lucky five on Monday, Oct 1st. (US Shipping addresses only.)