This post may contain affiliate links. Read my disclosure policy here.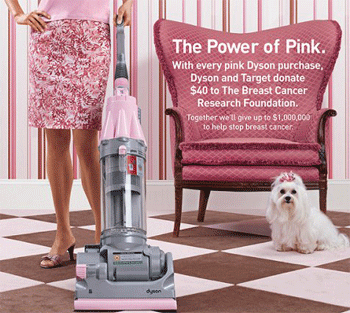 Dyson is helping to find a cure for Breast Cancer.
They have created a limited edition, oh-so-fashionable Pink vacuum and they are donating $40 from each sale to the Breast Cancer Research Foundation.
The pink beauties are exclusively available at Target… but you need to hurry because they are already 50% sold out! And since these Pink All Floor vacuums are a limited edition, once they're gone… well you know the end of that sentence.

We know every woman dreams of a Dyson — the effortless steering, the high-power suction, the clean air filter, the lightweight design.
The vacuum cleaner that doesn't lose suction; 250 air watts; Root 8 Cyclone technology deep cleans; lifetime HEPA filter included
Certified asthma friendly according to the Asthma and Allergy Foundation of America
Bagless design with easy-empty dust compartment; 46Hx13Wx14L"
Now is your chance to indulge yourself and at the same time support breast cancer research.
But yes… of course… one of you will get one for free. And not only that, since so many of you participated in our last vacuum giveaway, Dyson has offered to also donate the full retail value of a second DC07 Pink vacuum ($400) to the BCRF in honor of our giveaway.
If you want to be the lucky lady who gets this free Dyson Pink All Floors vacuum, please leave a comment and also link back to this post from your own blog. (If you're not a blogger, we understand you can't link back, but then perhaps just share the buzz with some friends.)
We do have to limit this giveaway to US shipping addresses, but Canadians if you're close enough to a US border, you could ship it there and go pick it up.
We'll draw the winner on Monday, Oct 1st.
But, don't wait until then… hop over to target and pick up one of these limited edition pink vacuums. And then if you win our giveaway, you can give one to your sister! 🙂