This post may contain affiliate links. Read my disclosure policy here.
This may not be the biggest tackle…
But boy is it overdue!!!
What is the expression about the shoemaker's children having no shoes??? I am not sure how it goes – but I do know it is pretty accurate sometimes.
My husband is an electrician, but a few years ago (maybe more I have lost count) the light in our bedroom burned out.

"So just change the light bulb Janice – you don't need an electrician to do that do you!" you are probably thinking.
But it wasn't so easy. Somehow (I think due to my husband who is too strong for his own good – or perhaps it is the light fixture's fault) the light fixture got wedged on too tight to undo. Even my strong husband (who probably put it on too tight in the first place) could not, for anything, undo it. The only solution was to break it off and replace the light fixture.
Enter the problem of procrastination and the story of the electrician's wife who lived in the dark for many years…

Yes – my dear husband never did manage to remember to buy a new fixture and get around to installing it. (Life is busy – and sometimes these tiny tackles just get brushed aside.) So, for years I have functioned with our bedside lamps for light. And then – now it gets really pathetic! – one of those lamps broke and we threw it out. I was down to my one bedside lamp for the entire room. Granted our bedroom is not very big – but good grief – it was dark in there!
But the day finally arrived! My husband – spurred on by our huge list of tackles and millions of trips to Home Depot – decided to change the fixture in our bedroom! He is doing a bunch of electrical work right now in the house as we renovate, so it was part of his project list – finally! He actually changed the light fixtures in all the bedrooms. (They were all the same poor fixture as the one in our bedroom that didn't throw much light anyway.)
As he walked upstairs, armed with a hammer, gloves and a rubbermaid, he called out to me, "If you want a tackle, grab your camera…" (He knows me too well!)
And so I did. This was a long awaited day!
Here is the show:

Darkness: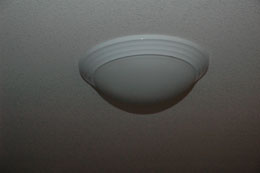 Destruction: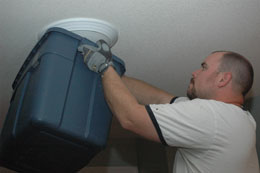 The Ruins: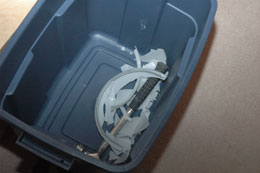 The New Beginning: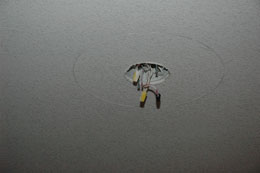 LIGHT!!!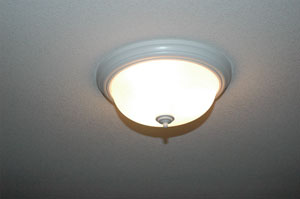 I must say I am thrilled! I can't even believe it when I walk into my room and can actually hit the light switch and see! Thanks Phil – I love it! 🙂
What are you tackling? Link up and show off.