This post may contain affiliate links. Read my disclosure policy here.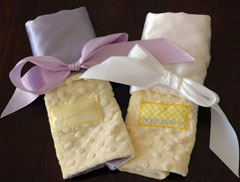 A luxurious snuggle in just the right size for a baby on the go…
What exactly is a Gigi Blanki?
It is a super soft, custom-made, designer baby blanket that is sized big enough for snuggling and yet small enough to fit in a diaper bag – or to be toted around by a toddler. At 14″x16″, this luxury security blanket is created for the busy life of your little one.
And of course a mom is behind these fabulous little blankets…
When Heather was frustrated with the blankets available in mainstream stores, she sat down at her Nana's sewing machine and took matters into her own hands, creating gorgeous, soft and fashionable travel-sized blankets for her infant daughter Gabby. Then – you guessed it – everyone around her started "placing orders" for her unique little blankets and her company, The Gigi Blanki Co. , evolved.
Each Gigi product is still handmade with high quality materials and attention to detail. When you buy a Gigi Blanki, your baby is getting the loving touch of a mommy-made product.
If you want a sweet and soft little lovey for your child, Heather is offering a special 10% discount for our readers. Just click here and you will be automatically set up to receive the discount. And if you leave a comment at this post – you will be entered to win one of three Gigi Blankies. (Winners can choose their own colors.) Please note: This contest is open only to US shipping addresses.
Good luck – and happy snuggling! 🙂