This post may contain affiliate links. Read my disclosure policy here.
*** Monthly Feature Column ***
Positively Speaking
Building Assets in your Kids by Kelly Curtis, M.S., author of Empowering Youth: How to Encourage Young Leaders to Do Great Things.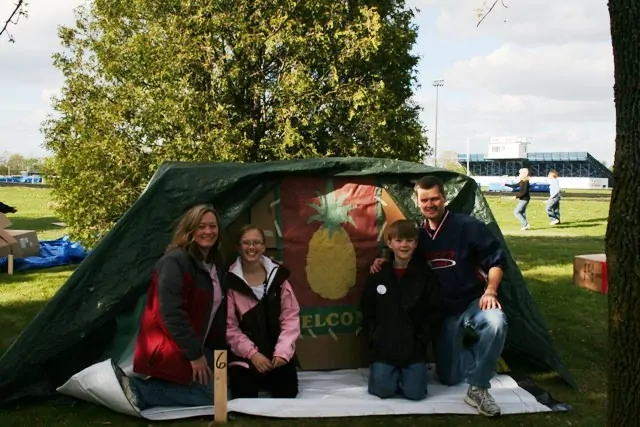 (Our family raising money for the homeless at "Shanty Town".)
Last month, Prudential Financial and the National Association of Secondary School Principals recognized 102 top youth volunteers from across the country. From May 1-4, 102 student honorees from across the nation participated in the Prudential Spirit of Community Awards program in Washington DC. Selected from more than 21,000 applicants, for outstanding service to community, these middle school and high school students were each awarded $1,000, and treated to the experience of a lifetime. They were personally congratulated by former Secretary of State Condoleezza Rice and Olympic snowboarding champion Seth Wescott at a gala dinner reception at the Smithsonian's National Museum of Natural History. In addition, honorees and their parents visited DC monuments and museums, and dined at the US Chamber of Commerce, as well as the Spirit of Mount Vernon cruise ship.
I'm proud to say my daughter was one of the youth honored in the Prudential Spirit of Community Award program, and I was so impressed by the other youth we met at the DC festivities, as well as the quality of the four-day programming itself. For a recap on our incredible weekend in DC, please visit my blog.
Search Institute has identified Service to others as one of the 40 Developmental Assets. Research shows these are characteristics of healthy, caring, resilient kids. The more assets youth have, the more likely they'll resist risky behaviors in the future.
"Service" comes in all shapes and sizes, and more important than what the service looks like, is what the service feels like to the person doing the serving. If you can help a young person find his or her spark in service, the rest will likely grow on its own. And there are many reasons to volunteer besides making a difference and feeling good about yourself. People also volunteer to develop skills, prepare for college or explore careers, and have fun working with friends.
Prudential suggests several avenues to those trying to "catch the spirit" to help make their communities better places to live.
VOLUNTEERING POSSIBILITIES:

Healthcare – helping out at the blood bank, nursing home, or raising money for research.

Animals – consider working a the local animal shelter, raising a guide dog or fundraise for a wildlife refuge.

Reading – help out at the library, read to children at Head Start, or start your own neighborhood book club.

Sports! – coach T-ball, start a neighborhood kickball game or help organize the Special Olympics.

Environment – start a school recycling program, plant a rain garden or raise awareness about the wetlands in your area.

Poverty – host a food drive, sponsor a child through Compassion International, or raise money for a local homeless shelter by spending a night in a cardboard shanty.
The opportunities are endless – what's your passion?
Thanks for joining in to build assets in your kids! I look forward to seeing you again next month for Positively Speaking.

Kelly Curtis is a Wisconsin school counselor and author of Empowering Youth: How to Encourage Young Leaders to Do Great Things. To read more about Kelly, please visit her Weblog, Pass the Torch or follow her on Twitter.