This post may contain affiliate links. Read my disclosure policy here.
Well, it's summer break! While I love the gorgeous weather and getting to play outside with my kids, I do not love hearing the words "Mommy, I am bored."
Yesterday was one of those long days and my kids were restless. Thankfully I was able to break out our Creation Cottage from KidsCraft. My kids love it!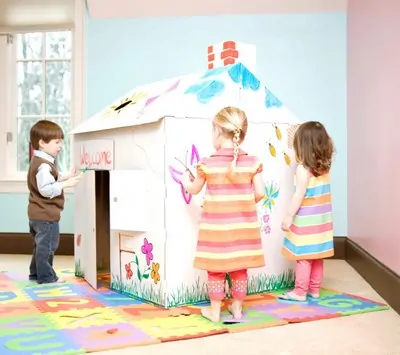 Anyone who has purchased a big appliance becomes the hit of the neighborhood when the cardboard box it came in is big enough to play inside. Better than electronics, board games or a ball, it's the box that won the hearts of toy judges who inducted it in the National Toy Hall of Fame. Now imagine a big cardboard box already designed with a window or doors! That's the playful concept behind KidsCraft Playhouses™ where imagination blooms and creativity blossoms.

Indoors or out, this pint size cottage is a perfect playroom for solo play or for the neighborhood gang. Made from 100% recycled materials, the unique design allows for a sturdy drawing surface for tykes. The white exterior is a blank canvas designed to inspire the imagination and creation from little Picassos. Five windows and a door make for fun peek-a-boo play.
Ingenious, isn't it? I know that I could save money and just use a large box. Heck, my kids play with packing boxes too. But, watching them decorate their Creation Cottage, seeing the darling details, like the sun on the roof and the windows that open with ease, makes us all smile. The Creation Cottage takes the cardboard box to a whole new level.
Assembly was a breeze. The flaps and slots are specifically designed and pre-cut for easy assembly and can withstand hearty hours of play. My children have been a bit rough on their cottage. There was even a small rip, but it wasn't anything that a little tape couldn't fix.
Made of 100% recycled material and made in the USA, two sturdy designs are available online and at select specialty retailers. The Shuttle Imagination, a large spaceship and The Creation Cottage, a playhouse

We would like to give one lucky reader their very own KidsCraft Playhouse. You can choose between The Creation Cottage, retail value $59.95 or The Shuttle Imagination, retail value $69.95. Just leave a comment below and let us know which one you would like to win.
This giveaway is open to US shipping addresses only and closes on Friday June 18th. We will announce our winner on Saturday, June 19th.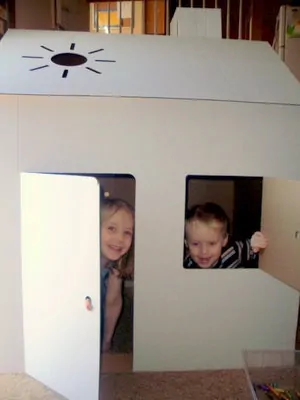 I received a Creation Cottage for review purposes. One KidCraft Playhouse is also being supplied for the winner of this giveaway.