This post may contain affiliate links. Read my disclosure policy here.
Do you have a preschooler or Kindergartener at home? Do you have preschool-aged grandkids who come to visit your home? Do you run an in-home daycare or preschool?
If so, read on for information and a chance to win a terrific resource.I recently received one month of Itty Bitty Bookworm Preschool to try at home with my son Kyle. This is a wonderful kit!
Each month, there are four lessons which revolve around a quality preschool picture book (such as I Like Me). Along with the book and theme for the week, there is a craft or activity for each day, dramatic activity suggestions, a letter and number of the week, and a color of the month, and even a parent's guide. Using this product in my home, I would probably choose to spread out the weekly ideas over a couple of weeks, instead of beginning a new lesson each week as it is designed.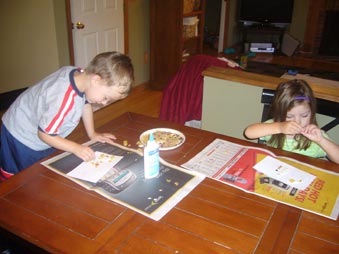 Every single thing that you need for the craft is prepackaged in a big ziplock baggie and included included (except for some very basic items such as scissors and glue) and prepackaged in a big ziplock baggie. As a mom who occasionally gets inspired to do something, this is a huge motivating factor for me. Instead of having to come up with an activity and then gather supplies, I can simply consult the lesson plan, grab the included book, and the craft kit and get going.
I was helping a friend with her kids one day, so I decided to try out an activity with her newly five year old daughter, and my three year old son. I read the book, talked about a few of the questions included, and then they did the activity (gluing beans and pasta on an outline of their name on cardstock).
Of course my kit only included supplies for one, so I added a few more pieces of pasta to the included supply and there was easily enough for the two of them to complete the activity. If you are planning to do the crafts with numerous children (such as in a daycare setting), for a small additional fee, you can receive all the prepared kits, or choose to supplement them yourself.
You can see a sneak peek of the Bo Kit (for 3 – 5 year olds) for October, as well as the slightly different Bailey Kit (for 18 – 26 months).
Tara Rison answered a few questions for me about her mom-owned business:
JD: Why did you start this business?
TR: After having my third child, I decided to quit my job as the director of a child development center to start my own in-home preschool. Once I opened I filled up quickly and became very busy. I also started to teach a night class for a local community college.
This left me with very little time to plan and organize quality lessons and activities. Therefore, I ordered several preschool programs, but was not happy with them. I felt they were very "cookie cutter" (meaning all of the projects looked the same), they did not make strong cognitive connections for the children, and they did not strive to promote pre-literacy skills.
So, I went back to creating my own. Jokingly I said to my husband one night, "I should sell my own curriculum on a website." He thought it was a great idea and convinced me to give it a go. I am so glad I did!
JD: What kind of customers use this system?
TR: We have a variety of customers. The majority are in-home preschool providers. Many preschools have subscriptions, as well. We also have parents, grandparents, and nannies who have bought subscriptions. Our curriculum is great for anyone who cares for a preschooler.
JD: How does your curriculum differ from others out there?
TR: Our curriculum is different than others out there in several ways:
1. All of our lessons, activities, projects, etc. are based on popular children's books.
2. All of the books are included in the kits.
3. We strive to promote early literacy skills.
4. Our activities are stimulating and creative. They are designed to teach self-expression through art.
Discounts are available if you order several months at once, or you can just order it month by month and use it at your own pace.
There is also another option, called Bella's Kit, which includes everything in the Bo Kit, except the books, which you could borrow from the library.
Tara has donated the following prizes. If you would like to win, leave a comment below, listing your preference. We will draw a winner on Wednesday, September 12.
1. A Bo Kit (ages 3-5) for 1 child for October or November (U.S. only), a $48 value.
2. A Bailey Kit (ages 18-36 months) for 1 child for October or November (U.S. only), a $25 value
3. A CD containing the October or November curriculum for Bo and Bailey (U.S. or Canada), a $25 value