This post may contain affiliate links. Read my disclosure policy here.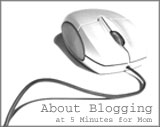 *** Monthly Feature Column ***

About Blogging
Be a Blogger, not a Writer.
One of the first lessons I teach in Blogger Boot Camp is the difference between a blogger and a writer. Trying to define blogging is difficult, because many people believe that anything written online should qualify as blogging, while others (such as myself) believe that blogging is a behavior distinct from writing.
The lesson goes like this:
There are over 1 trillion web pages on the internet. What makes yours stand out? A writer publishes content online and sits back, expecting people to come to their site because of the brilliance of their prose. Most don't get that satisfaction, and so quickly quit writing, citing the lack of traffic as a reason.
Some writers have the benefit of a large company or their personal reputation to drive traffic. If you write for a local newspaper, or if you are a recognized author or celebrity, you can get away with being just a writer, but don't kid yourself. If you wrote anonymously, no one would read you.
Writers write. It's a noble profession, and many are quite good at it. But writing isn't blogging.
Think of it as a riddle. Blogging requires writing, and writing can be blogging, but writing is not blogging though blogging is writing.
Enough with the semantics – let me explain why blogging is fundamentally different than writing. We'll break down the definition by describing seven habits of highly successful bloggers.
Write great content
Read other blogs
Link to other blogs
Leave comments on other blogs
Make contacts with other bloggers
Joining with a community
Investing in that community.
Writing great content is a must. The definition of great can mean many things, but it's either beautiful writing, intelligent insight, relevant commentary, funny humor or simply genuine opinion.
Reading other blogs is necessary to understand what other people are actually writing. If you don't read other blogs to determine what other people are saying, then you are a writer, not a blogger.
Blogs link to each other. It's a sign of respect. It's a sign of integrity and etiquette, and it's way to tell our readers who we associate with and who we read. Links are the currency of influence online, and the backbone of a community. And if you don't link out, other people won't link in.
Leaving comments is something that readers do to encourage feedback and introduce oneself to another blogger. If the blogs you are reading aren't inspiring you to comment, then you need to find new blogs. The goal behind commenting is the free flow of information. Bloggers won't blog without feedback, and they don't get better without comments.
Making contact with other bloggers is a Blogging 300 level course, but it shouldn't be. Online friendships are tenuous, and break easily. Friendships strengthened with e-mails, phone calls, and in-person meetings tend to last, and bring much higher benefits. People we meet, speak to, and write with are more likely to become and stay friends, then those whom you read once a week.
Joining a community means being more than a reader. One of the great advantages of the Web 2.0 is being to self-label. When you join a community, which is done by commenting, linking, and adding people to your blogrolls, you're telling the world the type of person you are by listing those you associate with. A community protects you, inspires you, and is the basis of your influence. Together, a group of voices is louder than each of us speaking alone.
And finally, investing in a community means putting time and money and effort (in whatever way you can afford it) by supporting others in that community. Purchasing products, clicking on ads, and giving contributions are monetary ways of helping out, but so is running contests, helping each other with templates, and sharing knowledge. Communities don't grow without investment, and bloggers understand this because what they get is greater than what they give.
Blogging is more than writing. It's forming friendships, and sharing inspiration, and working with others to build something greater than you are alone. How is that for a definition?