This post may contain affiliate links. Read my disclosure policy here.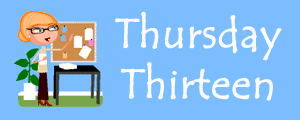 Banner by Chaotic Home
Almost every age that Jackson is, I think is the perfect stage and do not want him to grow a day older. Being my only child, I just drink in every sweet moment and don't want it to end. Now, I am not crazy – there are a few exceptions to this rule. Teething and separation anxiety were not fun.

But I really love age four! (Jackson is four and a half.) He is beginning to be a child, separate from me. It is so exciting (and liberating) to watch. I know these new steps are just the beginning of bigger ones to come – but I am reveling in each one! And while growing up can be bittersweet, I am trying to focus on the sweet.

So here are 13 Reasons I Love Age Four:
13 Reasons I Love Age Four
No more diapers and very few accidents.
He can carry on such great conversations.
Adorable comments Jackson says like, "There is just so much to say. I can't say it all. Like I love, love, love, love, love you Mommy. You are my precious Mommy…"
Snuggles, hugs and kisses. While He has his moments of playfully refusing to kiss or hug me, Jackson is a huge cuddle bug. He has always been and it still hasn't changed. I know it may end soon, so I am treasuring each snuggly second!
No more separation anxiety and good-bye tantrums. Yes he still complains a little about missing me and prefers me to pretty much anyone (hey that makes a girl feel good!) but in general he happily stays at Preschool, Daycare, Auntie's house etc. It is such a relief to walk out the door with him not even bothering to stop playing as he calls out good-bye.
He can play with friends without major supervision and interference. Now of course I am watching or within earshot, but now he and his buddies can actually play without many tears, conflicts or handholding.
Everyday I get to know him more. I love seeing Jackson develop into a little person and discovering more about his personality.
Witnessing him learn about God and his sweet, pure love for Jesus. (I pray I get to watch this through every stage of his life.)
Listening to him pray to God. His prayers are so honest and simple. Almost every prayer he says begins with "Thank you God for my friends and family"– whether it is at meals, bedtime or whenever. (He came up with that line himself.)
Independence. He can dress himself, brush his teeth, put on his shoes, open the van door, etc., almost all by himself.
Very few temper tantrums. Yes he screams, misbehaves and tests boundaries constantly, resulting in many time outs some days, but he is past that insane, cannot reason or calm down temper tantrum stage.
Watching him learn. He will learn everyday of his life, but I really enjoy this stage of learning as he masters his letters and now begins to read words, learns more French, learns how to use the computer etc. With each new achievement he beams with pride.
He is just so cute. Ok – this is at absolutely every stage – but hey I am still loving it!!
Get the Thursday Thirteen code here!
The purpose of the meme is to get to know everyone who participates a little bit better every Thursday. Visiting fellow Thirteeners is encouraged! If you participate, leave the link to your Thirteen in others comments. It's easy, and fun! Be sure to update your Thirteen with links that are left for you, as well! I will link to everyone who participates and leaves a link to their 13 things. Trackbacks, pings, comment links accepted!
View More Thursday Thirteen Participants