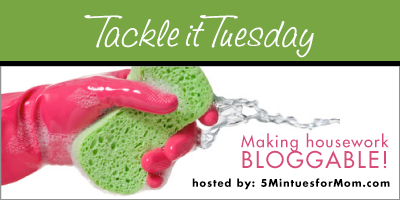 Video Editing is Definitely a Tackle!
Okay, I know it is not a traditional tackle. I didn't organize, or clean or declutter.
But this week I sure tackled!
You see, I am still pretty new to video editing. Beyond some simple trimming, etc, until this year I had not tackled making a video that required lots of editing.
But in February, for our Scrubbing Bubbles project, Janice and I made a video that required serious editing.
I didn't do it alone though. I ran to my long-time friend who is a graphic designer and saves us from countless design emergencies.
Together, we put together this fun video featuring clips of the morning madness at Janice's house. (It is real too! Janice is seriously in her pj's with no makeup!) You can see that video here on YouTube.
So this week, for our 5 Days of Huggies event, we decided to make a super cute video of our fastest little mover, (and last baby in diapers!) Janice's daughter Olivia.

It always seems like a good idea when we first come up with it. BUT, then the reality of MAKING the video hits.

We had to shoot about three times to get all the shots we needed. And of course I had to watch them all to find what I could use.
And THEN comes the editing. OH the editing! It takes so long to make a one minute video!
Once again I ran to my friend George to save me. For two evenings last week, I went to his house and we worked on the video.
When I watch it now I still can't believe how much time it took! Video editing has to be one of the most time consuming tasks a blogger can do!
I do LOVE the video though. I think Olivia looks super cute. It is SO Olivia! She is such a riot with a huge personality. She makes us laugh — and RUN — constantly.
My Sophia is the exact opposite of Olivia. In fact Sophia didn't even bother to start crawling until she was nine months old. She happily sat in one place playing with toys and watching the "Olivia show."
So, tell me, what do you think? Was the video worth the effort???
What are YOU tackling this week? Link up show off…
Tell us what you're up to with all your other tackles… housework and otherwise… add your link to your tackle in the MckLinky below!
Each week on Tuesday, we are posting before and after pictures of a project or trouble area that we tackled this week.

Find out more about Tackle It Tuesday here.
The project can be little or big – whatever you want.

Basically, Tackle It Tuesday is about giving ourselves incentive, deadlines and satisfaction in getting our household tasks done.

(It doesn't even have to be housework… just whatever is on your To Do list.)
If you tackled a project this week, just add a comment and add your link below.
Written by 5 Minutes for Mom co-founder Susan.
You get our feed, right?
Did you know that Janice and I also have a pedal car store and a rocking horse store?