This post may contain affiliate links. Read my disclosure policy here.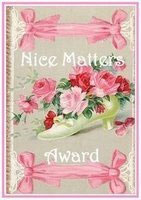 DownBlogger just gave me an award for being "NICE" – and she said I was fun. 🙂 Well that is just so darn nice of her – THANKS!
And who doesn't want to be thought of as a nice person? I will surely take that compliment with a big smile of gratitude.

(By the way – have you met DownBlogger? She has one of the best headers on her blog I have ever seen. It is just gorgeous. She is a wonderful, loving mom, as well as a committed advocate for Down Syndrome. Her blogroll is also a great directory to other Down Bloggers.)
So what is this latest meme-award all about? Well, this is the first I have heard about it, but here is the story:
"This award is for those bloggers who are nice people; good blog friends and those who inspire good feelings and inspiration. Also for those who are a positive influence on our blogging world. Once you've been awarded please pass on to five others whom you feel are deserving of this award".
So… five bloggers… as you may know, this choosing part makes me shy away from these awards. I hate to choose five friends out of so many fabulous women! I guess it is cause I am too "nice." 😉
But here goes… (Please note: I am just grabbing five that are fresh off my brain. This list is not complete in the slightest!!!)
So there is my list. Thanks again DownBlogger. 🙂