This post may contain affiliate links. Read my disclosure policy here.
This is NOT the news an Office fan wants to hear.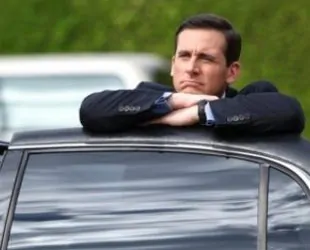 But according to Steve Carell, when his contract ends next year, he will most likely call it an end for Michael Scott.
After an interview with the BBC when Steve Carell first mentioned his plans to leave The Office when his contract ends next year, the terrible news exploded online. We all gasped and prayed it wasn't so! Maybe it is just a negotiating tactic… Maybe it isn't true… Please Steve, say it isn't so…
But Access Hollywood caught up with Steve Carell and asked him if it is true that next year will be the last for Michael Scott.
Visit msnbc.com for breaking news, world news, and news about the economy
I suppose we can't be too shocked. We have had the luxury of Steve Carell cracking us up in our living rooms for six years so far. He deserves the chance to move on to the next stage of his life — even if we aren't ready for him to.
So tell us, will you watch The Office without Steve Carell?
I suppose I will, out of loyalty to the show and the other characters. But I am darn sure I won't enjoy it nearly as much. In fact, I may not be able to bear it at all.