This post may contain affiliate links. Read my disclosure policy here.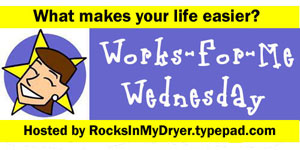 Last week I warned you that I was running dry. My Wednesdays looked like they might become "What Doesn't Work for Me."
But last week I went on a WFMW reading rampage. I must have read over 40 posts off Shannon's Mr Linky list. And while reading all those brilliant tips, I started to remember some of the things I do that actually do work for me.
So, my tip for today is to write down ideas while you are reading the other WFMW tips. Just reading the other ideas gets my creative juices going and all of a sudden I am thinking of things that I do that work. Wow – a goldmine! So, I opened a word document and started typing.
Now I have a list of ideas that I will add to weekly that I can go to when I am in the "it is time to post and I can't think of anything panic."
And look – it works for me already!
For more great "Works for me Wednesday" tips, visit
Rocks In My Dryer