This post may contain affiliate links. Read my disclosure policy here.
Inch by inch, its a cinch!
My mom always told us, "Inch by inch, its a cinch!" when we were kids. Well – this ongoing monster tackle isn't anywhere close to being a "cinch" but we are moving forward – thanks almost entirely to my amazing mom!
I don't mention my out-of-this-world mom often enough – but she is the workhorse behind our stores www.pedalcarsandretro.com and www.a-rocking-horse-to-love.com. With young children and the huge demands of the stores, Susan and I could never run them without her. She works so hard I can't even tell you! But despite her overwhelming workload with the stores, she has been making time to escape her desk and help me out.
This last week and weekend, we (mainly her!) tackled the garage. It is a huge job – the before pictures are so terrible I don't even want to show them! And it still is not completely done. But it is a million times better. We purged it and gave away tons and tons of stuff. What a relief to get some more room in there. (My husband was away all weekend, so we did hire our cleaning lady, who usually comes in twice a month, to help. There was too much lifting and physical work for my mom and pregnant me to do.)
Here is a shot of Jackson hard at work scrubbing the garage floor. He had a blast helping out – and adores spending time with his Grandma. So he was in tackling "heaven." (If you are wondering what is on Jackson's back, he had his toy sword tucked in his shirt. When I pointed it out, he said, "Oh – I forgot I put that there!")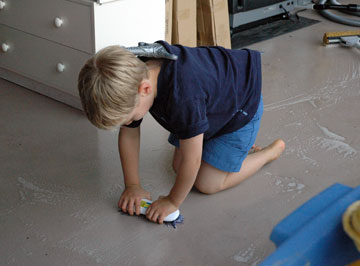 Last week, I showed you before pictures of the basement part of the tackle with all the files and boxes waiting to be sorted. (We moved the filing cabinet from the old office down here and this is where I used to scrapbook back before I started blogging! Now it is an abandoned mess, desperately needing some attention.)
Here is the after picture of that part of the tackle. Still tons to be done in this area too, but at least it is an improvement.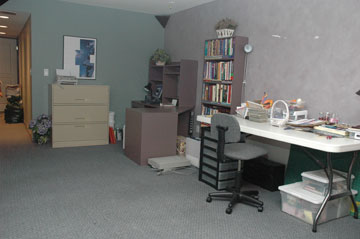 There are still a million more "inches" to go. But we are on our way…
What are you tackling? Link up and let everyone know.