This post may contain affiliate links. Read my disclosure policy here.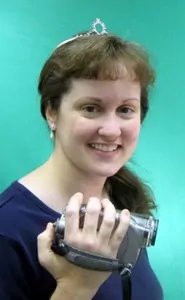 Do you have a minute or 5? Our friend, Jendi, would like to share with you how you can vlog and publish it online in just 5 minutes!
Jendi started reading blogs in 2006 and quickly became addicted. In 2007 she started her blog with WordPress. In 2008 she started making videos for online. Then she looked for ways to improve her vlogging. There were many sites with complicated information, but none with simple tips for those just starting. She launched simplevloggingtips.com to help fill the gap and to encourage other moms to push record and just vlog it.

She has spoken in webinars for Kelly McCausey and Maria Bailey as well as live at the Blissdom Conference. She works as a social media director for a local business, and a video marketer for a business on the other side of the country.

She lives in Pennsylvania with her husband, stays busy homeschooling her 3 kids, and tries to make sure that the dog, cat, and rabbit get fed. Follow her on twitter @jendisjournal.
Sometimes 5 minutes seems really long, like waiting for the doctor, or a phone call, the light to change, or the water to boil. Most of the time in a mother's life 5 minutes flies by -especially when I just want to pop in and see what's going on with Janice and Susan.
I often find myself trying to do things in "just a couple minutes" and I decided to challenge myself to do a vlog in 5 minutes. Could I do it?
I used the Monday Mingle questions and my Canon Powershot. I hit the timer button and the camera record at the same time. It took me 2 minutes and 15 seconds to record my vlog, and 3 minutes to upload to YouTube and post on SayitFacetoFace.com. So it is possible to get a video online in 5 minutes.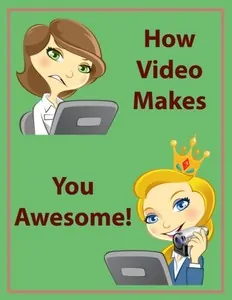 If you go to Say It Face To Face and watch my Monday Mingle Vlog you will notice that I did some editing. That, my friends, took a good 10 minutes. I could have put my raw video footage online. It would have been fine, but not awesome and I love the awesome.
What might have slowed my vlogging process down?
Having to change clothes, do hair, face, etc. I just ran a brush through my hair and a bit of concealer on some spots when I was brushing my teeth.
Not knowing what to say. I had thought through my answers when I was reading the questions and was ready to go.
Not knowing where to film. I have filmed videos in the same spot previously and knew which light to have on and where to put the camera. Setup and lighting can slow you down.
Needing to set up an account at either YouTube or Say It Face To Face. The registration process does not take long, but it takes "just a couple minutes" when you first start. The good thing is that once you have the account it's there for you – just remember your password.
Not knowing how to use the hardware and software. If I can't find the camera cord it definitely takes more time; and if I don't know which file the video is in it is time consuming and frustrating. Can you tell I learned these last two the hard way?
Those things are just small bumps you can roll over not huge mountains to climb. Vlogging does not have to be any more difficult than writing and posting a blog post. Some of you might even find it easier. You can do it! Take it one step at a time and soon you will see how video makes you awesome.
Want some more vlogging tips? Check this out.