This post may contain affiliate links. Read my disclosure policy here.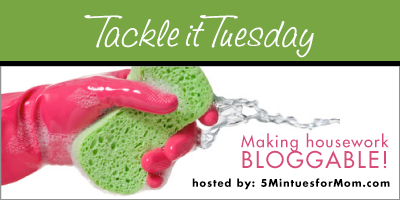 Tackling My Kitchen Table/Office — on Video…
This isn't the first time I have tackled my kitchen table here on Tackle it Tuesday. Over the last four years, I have featured my kitchen table/office a few times — because it always needs tackling!
As my work space plus a kitchen catch all, my table is a magnet for clutter and chaos. I pile. And pile. And pile. Until I can handle it no longer and I purge through the stacks of mail and misdirected "stuff."
This tackle happened late at night last week. I started at 9pm and finished about 1am. Instead of photos, this week I captured the before and after shots on video:
Before
After
What a relief to have that table tackled! Now I just need to learn to keep it under control so I don't have to do four hour tackles.
What are YOU tackling this week? Link up show off…
Tell us what you're up to with all your other tackles… housework and otherwise… add your link to your tackle in the MckLinky below!
Each week on Tuesday, we are posting before and after pictures of a project or trouble area that we tackled this week.

Find out more about Tackle It Tuesday here.
The project can be little or big – whatever you want.

Basically, Tackle It Tuesday is about giving ourselves incentive, deadlines and satisfaction in getting our household tasks done.

(It doesn't even have to be housework… just whatever is on your To Do list.)
If you tackled a project this week, just add a comment and add your link below.
Written by 5 Minutes for Mom co-founder Janice.
You get our feed, right?
Did you know that Susan and I also have a pedal car store and a rocking horse store?