This post may contain affiliate links. Read my disclosure policy here.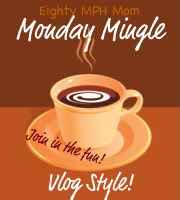 I love taking part in Monday Mingle and tried desperately to sneak in a little vlogging while my girls played behind me. Of course it didn't go quite as planned. I really liked this week's questions and hope you can look past the giggling girls and wobbly laptop.
As usual, I've uploaded my Monday Mingle response to our video conversation site Say It Face To Face.
You can join in Monday Mingle by recording a quick video answering this week's questions and upload it to your own blog or you can add your video as a response to my Monday Mingle on Say It Face To Face. Then add your link at Eighty MPH Mom.
THIS WEEK'S QUESTIONS (submitted by Mandy from I'd Rather Be Crafting ) :
What is the hardest *physical* thing you have ever done? (Giving birth, running a marathon, etc.)
What is one of the hardest things you have ever done emotionally? (Saying goodbye to a loved one, watching your babies grow up, etc.)
Name one thing from your bucket list – something you hope to achieve before you die.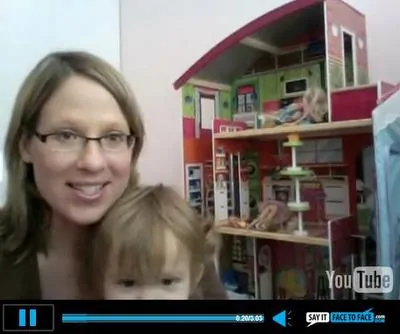 (By the way, that darling dollhouse you see Julia playing with is from one of our online toy stores A Rocking Horse To Love.)
Monday Mingle is a vlogging carnival created by Eighty MPH Mom and it is a great way to get started vlogging.
You can join in Monday Mingle by recording a video answering the weekly questions and publish it on your own blog and/or even just as a response on Say It Face To Face. Then link up at EightyMPHMom.com.
Get vlogging with us over at Say It Face To Face… you don't even have to wait for Mondays. LOL
Talk soon,
Susan